Once you've created a shortlist of selected candidates, the next step in the recruitment process is to invite your preferred candidates to continue to the next round. Some companies choose to ask candidates to perform a skill assessment (if they haven't done so already), participate in a phone screen, or move on to the interview round. 
[Read more: Vervoe's Guide to Shortlisting Candidates]
For those individuals who don't make the preferred shortlist, it's also important to let them know you won't be moving forward with their candidacy at this time. Transparent communication helps build your employer brand and creates a better candidate experience, no matter how short the relationship may be.
Since one of the main goals of shortlisting candidates is to reduce time-to-hire, we're offering a few free email templates for shortlisted candidates, as well as for those who didn't quite make the cut this time around. Feel free to customize these templates for your specific company and hiring process, and continue to provide a great candidate experience throughout your recruitment.
How to Write a Shortlisted Candidates Email
A shortlisted candidate's email should communicate two key things: first, let the candidate know that you wish to proceed with their application — they've made it to the next round of the hiring process! Next, outline what that means. Will you be sending them a skill assessment? Scheduling a phone screen? Inviting them to video interview? Be upfront about what the next steps are to help the candidate put their best foot forward.
The more information you can provide to help candidates prepare, the better experience they will have with your company — and the greater chance you'll hire the right person the first time around. And, remember to send emails even to those who don't make your shortlist. Rejected candidates will appreciate you letting them know so they can concentrate on securing a position elsewhere.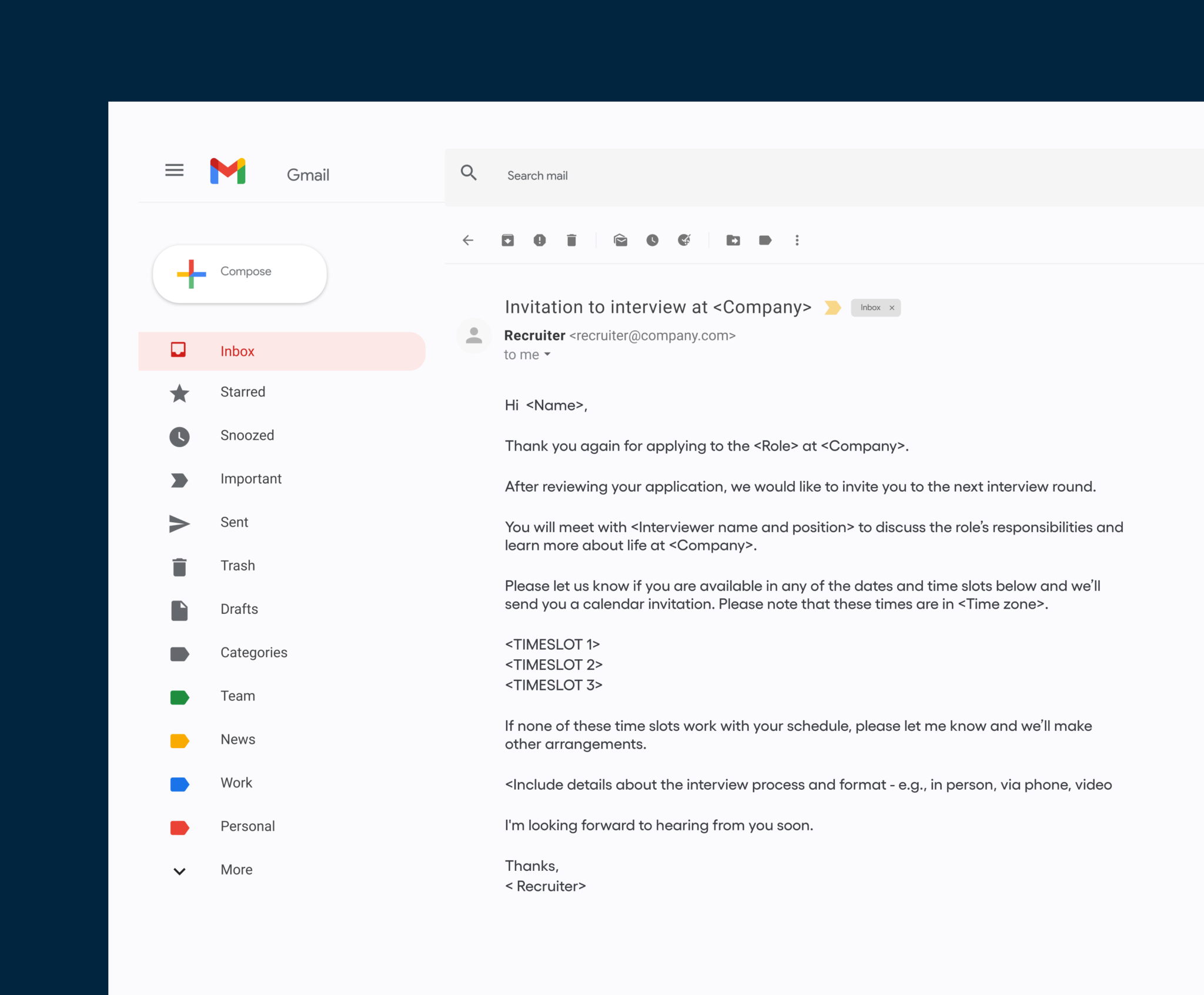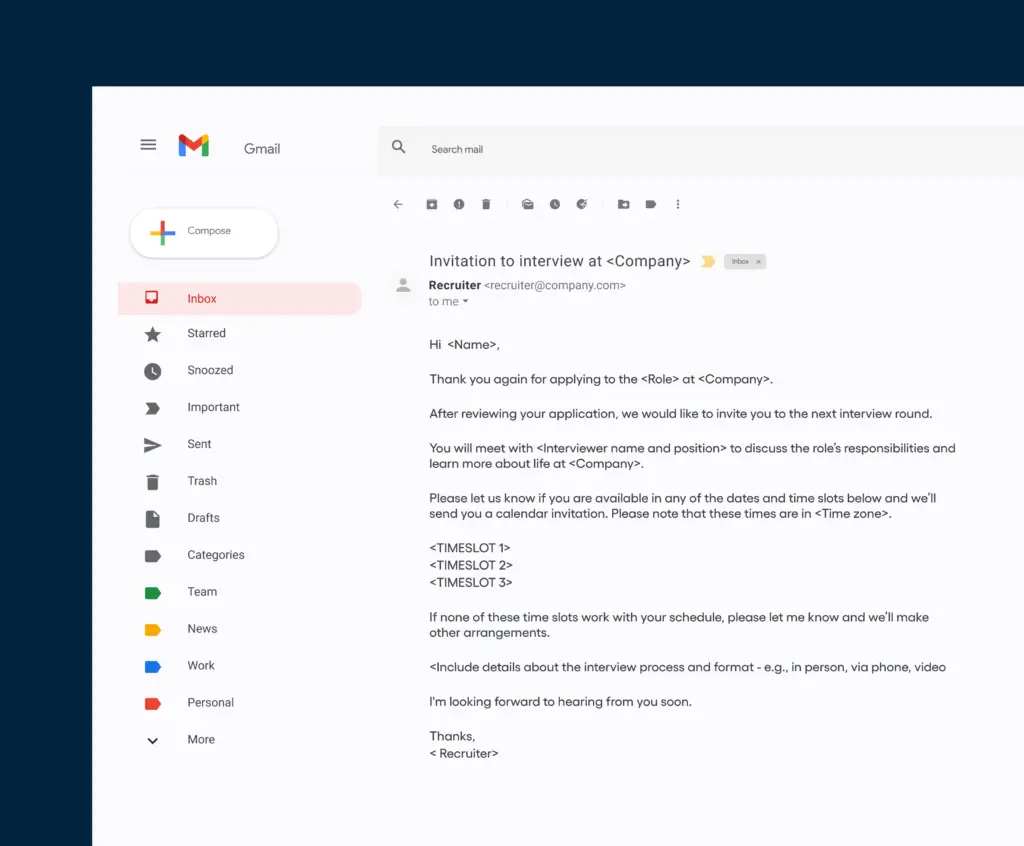 Sample letter for shortlisted candidates for interview
Use this email template for recruiters to invite shortlisted candidates for a job interview, and customize it depending on whether the interview will take place via phone, in person, or remotely.
Subject: Invitation to interview at <Company>

Hi <Name>,

Thank you again for applying to the <Role> at <Company>.

After reviewing your application, we would like to invite you to the next interview round.

You will meet with <Interviewer name and position> to discuss the role's responsibilities and learn more about life at <Company>.

Please let us know if you are available in any of the dates and time slots below and we'll send you a calendar invitation. Please note that these times are in <Time zone>. 

<TIMESLOT 1>
<TIMESLOT 2>
<TIMESLOT 3>

If none of these time slots work with your schedule, please let me know and we'll make other arrangements. 

<Include details about the interview process and format - e.g., in person, via phone, video interview, etc.>

I'm looking forward to hearing from you soon.

Thanks,
<Recruiter>
General shortlisted candidate email for skill test
If you haven't used a skill test to screen candidates for your shortlist, issuing a skill assessment is the next logical step in the hiring process. Here's a sample email you can use to invite candidates to show their talent using a tool like Vervoe.
Subject line: Skill Assessment Invitation at <Company>

Hi <Name>,

Thank you for your interest in the <Role> position at <Company>. We would like to invite you to complete a skill assessment as part of our recruitment process.

This assessment was designed to evaluate your skills and help us understand your approach in situations relevant to the role. This assessment consists of <X questions> that aim to mimic the types of tasks you may encounter at <Company>. 

When you click on the link, you will see a welcome video that will further explain the format of the assessment as well as any time restrictions that you need to know ahead of time. Clicking the link will NOT begin your assessment. 

Please complete the assessment to the best of your ability by <Deadline>. If you have technical issues, please feel free to reach out. 

Thanks, 
<Recruiter>
Email for candidates not on the shortlist
Even if a candidate doesn't make your shortlist, it's important to reach out to them. This small gesture can build goodwill with potential future applicants and improve your employer brand. Here's a template you can use to let candidates know you won't be proceeding with their application.
Subject line: Thank you for applying to <Company>

Hi <Name>,

Thank you for your interest in the position and taking the time to apply for the <Role> role at <Company>. It was a pleasure to read your background and learn more about your skills and experience. 

Unfortunately, our team did not select you for further consideration.

Competition for jobs at <Company> is always strong, and it was difficult to choose among so many high-caliber candidates. Please note that we will be keeping your resume on file for future openings that better fit your profile, and feel free to reach out if you see any openings that spark your interest in the future.

I am happy to answer your questions if you would like any specific feedback about your application.

Thanks again for your interest in <Company> and best of luck with your future endeavors.

Regards,
<Recruiter>