Current labor market shortages would indicate that the global skills gap is only growing, but what if you could solve it with the team you've already got?
It's never ideal when what you have and what you need don't align. In workplaces all over the world, the issue is only exacerbated when employees are expected to complete tasks that they don't have the skills for. To solve the problem, identify shortcomings, and supercharge efficiency, it's at this point that a skills gap analysis is a must.
For those unfamiliar with the term, the skills gap is the divide between the skills employers expect their existing team members to have, versus the skills employees and job seekers actually possess. Not only does it place too much pressure on existing team members, but it can be incredibly frustrating for department heads and managers as well.
Let's say that your existing marketing department consists of three key employees: the marketing manager, the web developer, and a copywriter. You've done your research, and you know that the next key areas to focus on are SEO and graphic design. Are you going to hire two new team members, find a unicorn that could do both, or outsource?
While many hiring managers make the mistake of thinking that the above choices are the only three options, the reality is that there is a fourth: upskilling your existing team.
As an example, your copywriter may show a passion for producing all types of content, or your web developer may already have some basic knowledge of SEO — but these hidden talents rarely have the possibility of being unearthed without a skills gap analysis, followed by a skills assessment test.
What is a skills gap and what causes them in workplaces
For those unfamiliar with the term, the skills gap is the divide between the skills employers expect or desire their existing team members to have, versus the skills employees and job seekers actually possess. According to McKinsey & Company, the vast majority of companies worldwide — a whopping 87% — are aware that they either already have a skills gap, or will have one within the next decade.
Current skills gaps are being fuelled by a combination of factors including advances in automation, artificial intelligence, and other technologies, along with candidates lacking the skills — not qualifications — needed to interact with these new tech innovations.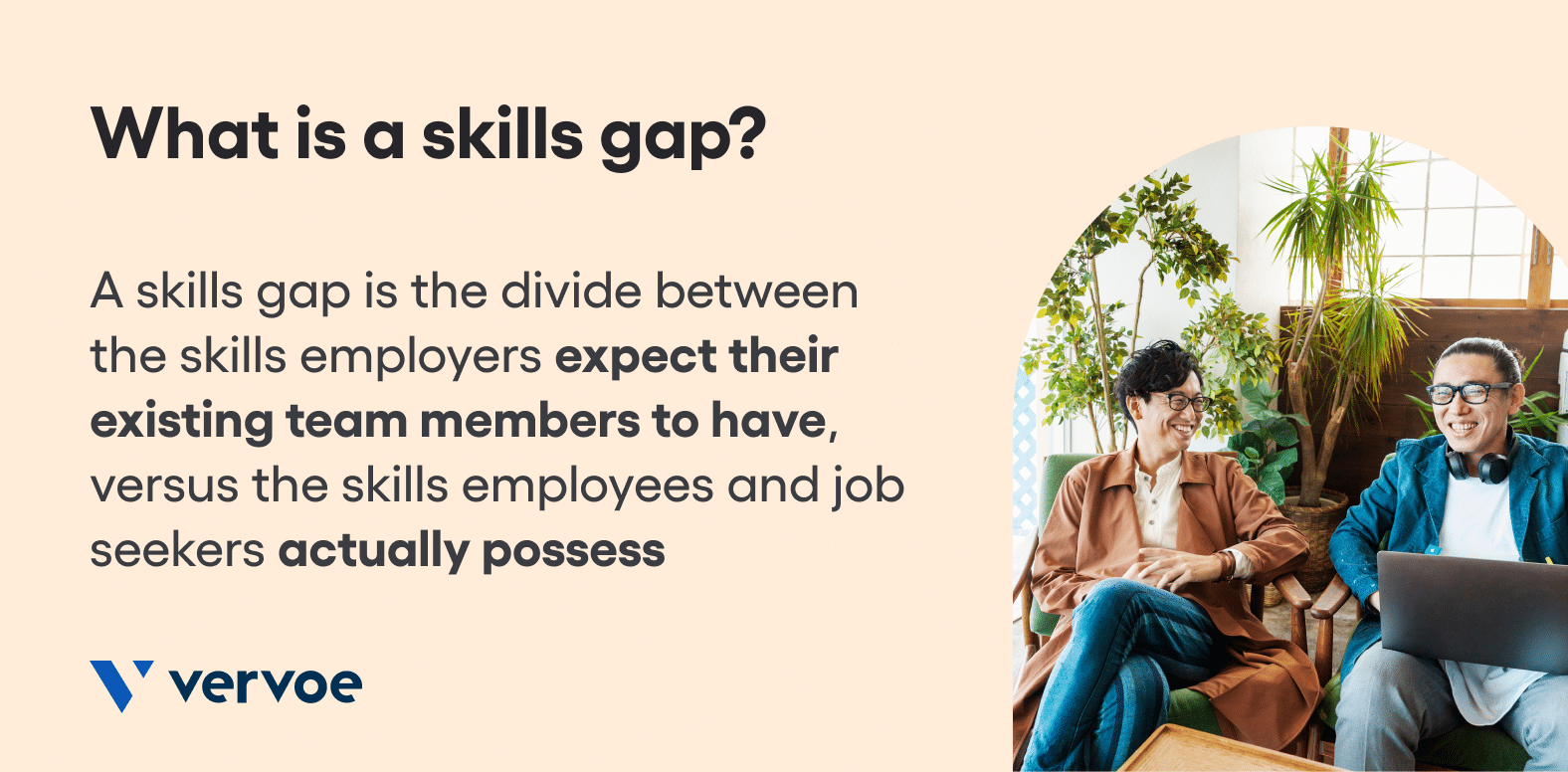 How unaddressed skills gaps are hurting companies
The world has changed a lot in recent years, and both employees and employers alike have struggled to keep up. Although the employees themselves are similarly anxious about the widening skills gap, with 46% of those surveyed believing their current skill set will become irrelevant by 2024, just 35% of workers feel supported by their organization's skill development opportunities.
Despite job seekers attempting to get qualified with degrees that they believe will set them up for the rest of their careers, the reality is that the knowledge obtained becomes increasingly irrelevant as technology advances.
As the job market increasingly focuses on technical skills, employers are having a challenging time finding applicants with the background and experience needed to meet the needs of changing job roles.
In fact, the 10 industries that are suffering the most from skills gaps include cybersecurity, machine learning, advanced manufacturing, cloud migration, big data, construction, warehousing, computer technology, electrical engineering, and marketing.
If left unchecked, a skills gap can cause a wide range of issues for companies across almost all sectors, including:
1. Lower productivity
When fewer people are working, less work can be accomplished during each workday. Managers may also have to take time away from their work to help employees who don't have ideal job skills, as the team members are often issued tasks that they don't have the knowledge to tackle.
2. Performance issues
An employee needs more of the skills necessary to accomplish a job to ensure their results live up to expectations and their key performance indicators. Workers must complete their jobs accurately and precisely to ensure products meet a certain standard, especially in technology.
3. Decreased profits
Lower productivity rates and substandard products can quickly result in dismal profit and loss statements. A lack of skilled employees, or employees with the right skills, can lead to a business not making the necessary sales to sustain and grow the company.
4. Reduced competitiveness
Without a skilled team, a company could fall behind competitors in other countries. As an example, Apple harnessed the soft skills of innovation and creativity to produce the iPhone rather than relying on computers and iPods. Microsoft didn't expand their offerings, and soon fell behind.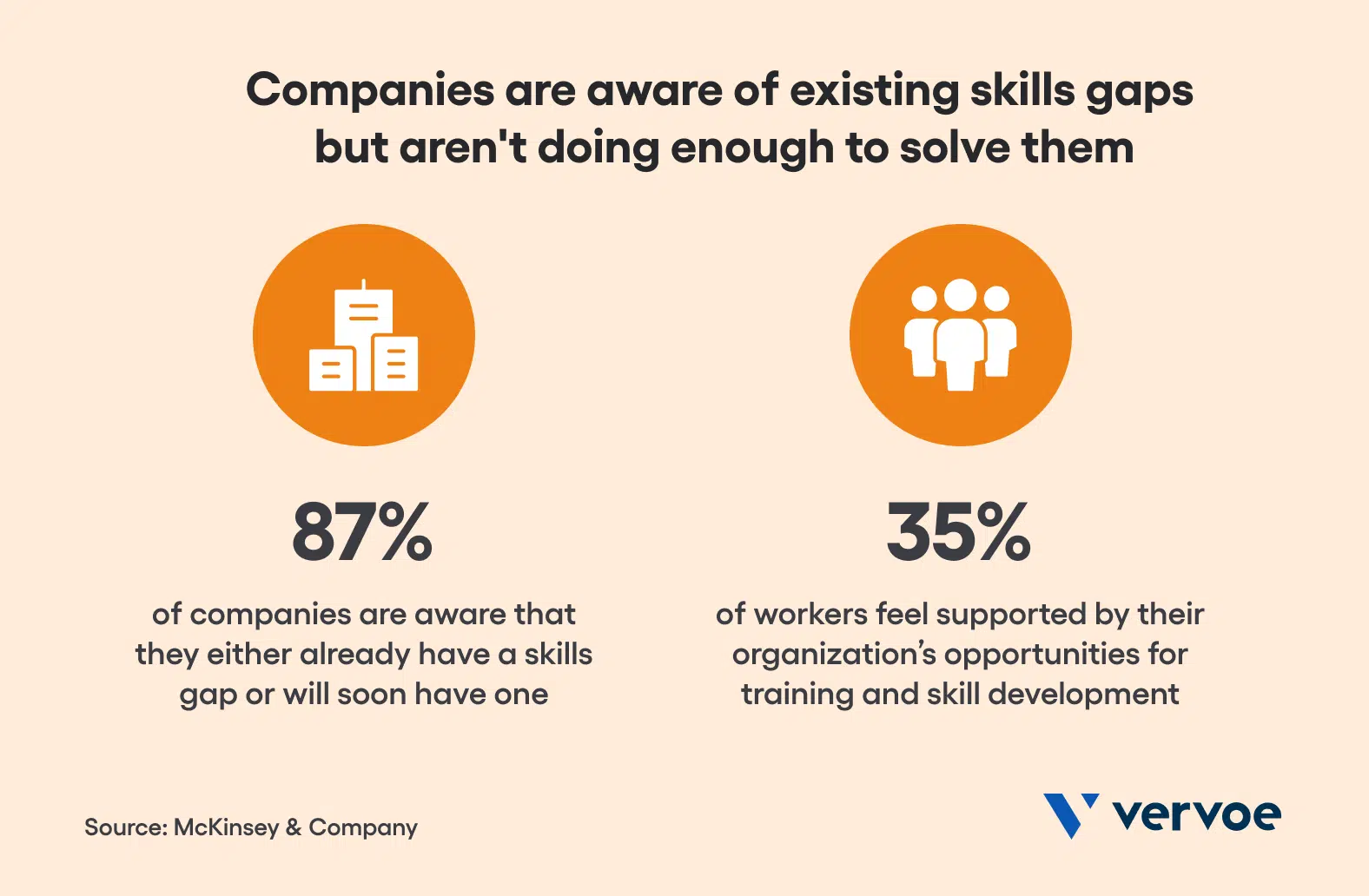 Why internal mobility is the solution to skills gaps
Typically, a labor shortage occurs when there are not enough available workers participating in the workforce to meet the demand for employees.
As an example, there were 11 million job vacancies in the United States in 2022, but only 6.5 million workers were listed as unemployed. When it's already this difficult to find staff, finding the right staff gets even harder.
However, the solution an existing skill gap in your company might be hiding right under your nose. According to PwC Global, an overwhelming number of existing employees want to reskill, with 77% of respondents saying that they would happily learn new skills at work or even retrain entirely.
Interestingly, 46% of people with postgraduate degrees say their employer gives them opportunities to improve their digital skills, but just 28% of people with secondary education say the same.
Too many companies still believe that holding the right degree is the key to identifying top performers, but fail to recognize the achievements of those who hold the soft skill of continuous learning, or the desire to constantly master the latest technologies, best practices, and more. So how do you address skill gaps in the workplace?
The most effective approaches to achieving a higher-value workforce have a common core: opportunity. For companies who have already clued onto the benefits of hiring and promoting internally by upskilling existing team members, the skills gap is nowhere near as relevant, as they've been able to solve the issue by looking within via internal talent mobility.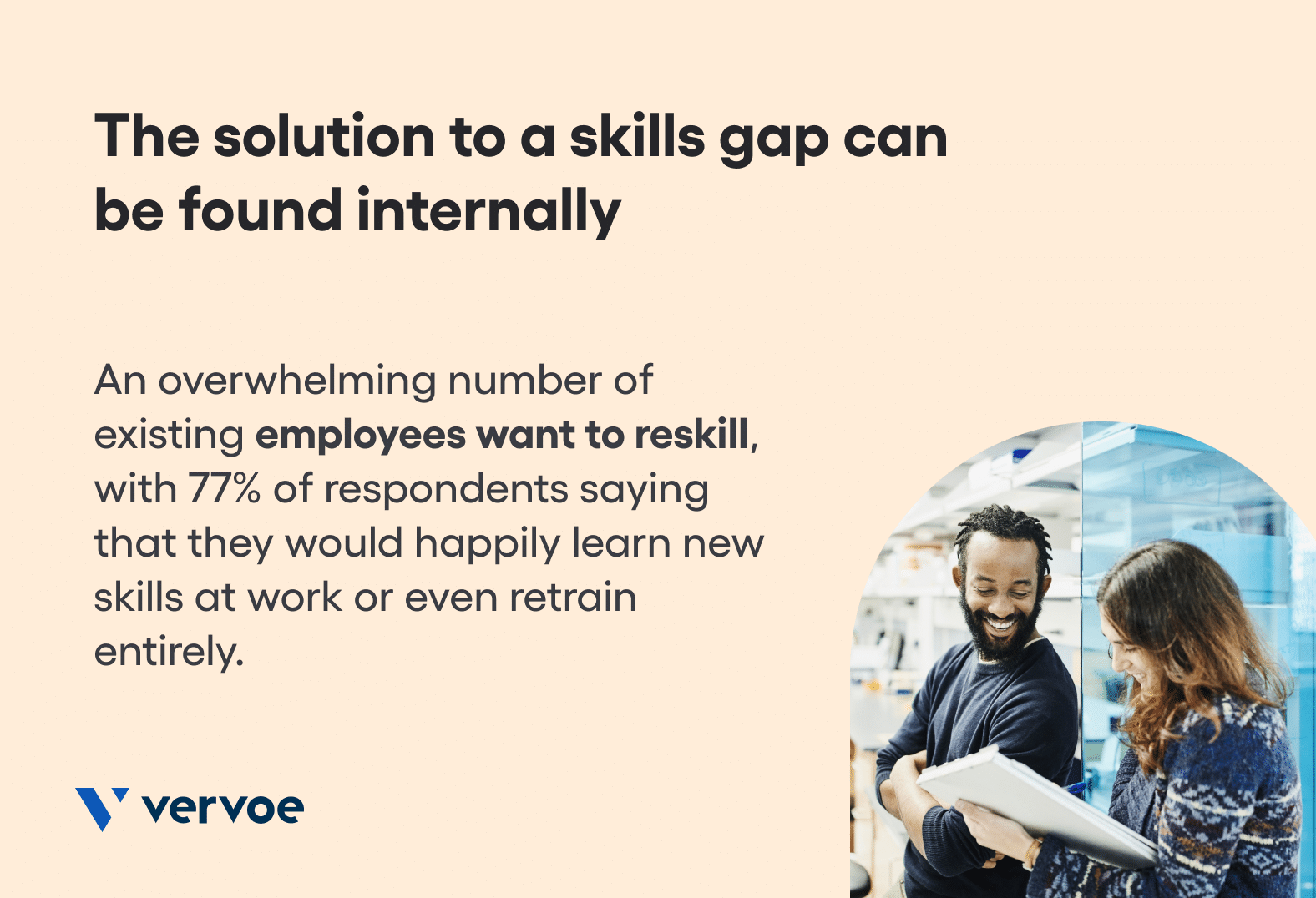 How companies can benefit from encouraging upskilling
Between the ongoing pandemic and labor shortage, it's clear that employees want more than just a job — they want a career. When you choose to promote from within, you send the message to other employees that your organization values hard work, commitment, and most importantly, its team.
Aside from boosting your team's morale, hiring internally by encouraging employees to upskill is also incredibly cost-effective. Research from Wharton suggests that external hires underperform in their first two years when compared to internal hires. Aside from having a much slower onboarding experience, external hires also cost around 20% more than internal hires by the time the recruitment process is finalized.
While this may be music to the ears of recruiters and hiring managers struggling to find the right people for the right roles, the key to a successful upskilling program is identifying which team members have hidden talents. So, what's the best way to identify gaps in your team? Ideally, the process should start with an in-depth skills gap analysis.

5 steps to upskilling your staff and futureproofing your organization
New research from Deloitte indicates that a whopping 98% of business executives say they plan on moving more toward becoming a skills-based organization. Still, fewer than one in five are adopting skills-based approaches to a significant extent across the organization, and in a clear and repeatable way.
To turn a philosophy into an action plan, it's imperative to implement an upskilling program. Common examples of upskilling efforts include digital skills, analytics skills, and organizational transformation skills.
These types of upskilling programs not only introduce your employees to new technologies in their fields and decrease knowledge gaps in technical skills, but cement your company's status as forward-thinking, encouraging the professional development of your team. But where do you start?
1. Conduct a skills gap analysis
A skills gap analysis can help you determine the gaps you have and which skills your team is missing so you can confidently hire for specific roles or provide your current workforce with training or on-site education. To conduct a skills gap analysis, you must first identify your company goals and choose skills accordingly.
As an example, if your marketing team doesn't have a social media marketer and you plan to start building your online presence, you'll know that you need to find someone with that experience or help current employees obtain those skills.
After identifying the skills needed for different roles throughout your organization, you'll need to assess what skills your team already has, and identify what you're lacking. Start by assessing past performance reviews or working with managers. Always collect data from employees, including any qualifications they already have.
2. Design an in-depth skills plan
Previous reskilling efforts made on behalf of a company may have provided short term solutions based on the current state of a company, but failed because they didn't build for the future. Instead, base your priorities on the types of jobs that will be affected most by new technologies and the employees who are most at risk.
In addition, work to understand which individuals will be affected by job changes, or roles disappearing. Analytic workforce planning tools can help estimate the impact of new technologies, the savings that automation will generate, the types of new skills that will be needed, and how long these changes will take.
Design each course to focus closely on these strategic goals. Ideally, you want your internally trained staff to become as competent as those you might hire from outside. In addition, it's a good idea to address this sooner rather than later to keep up with rapidly evolving technology.
3. Meet with existing employees
Spending time with employees can help you learn a lot about your workforce and your business, since talking to your people can help you understand overall team dynamics, goals, and skills gaps. What's more, you may discover the underlying cause for skill gaps: unengaged employees.
Many employees want to improve their skills to receive promotions, earn a higher salary, and grow as a professional. However, many companies make the mistake of not providing their employees with learning opportunities to help them get there, leading to lagging motivation or increased turnover.
By scheduling regular one on ones as a part of your management strategy, you'll learn about your employees' individual goals, strengths, and weaknesses. Once you learn more about your employees, you can start to find ways to reduce any skill gaps by helping them determine the skills they need for certain roles.
4. Use skills assessment tests
If your existing team members have expressed an interest or a desire to learn more about a particular skill or role, it's worth using skills testing software to unearth any hidden talents or assets. By prioritizing current employees for future positions, you're giving them something new to work towards.
In addition to developing future leaders within your company, skills testing software or even a skills assessment template can also identify underperformers. If employees cannot complete basic tasks like using a spreadsheet or writing an email, it means that they aren't meeting the competency level of their job and may need training.
Of course, the third benefit of integrating skills assessment tests into your hiring process is its ability to kill two birds with one stone. To maximize the opportunities of white-labeled software with an API, companies can use this technology not just to promote internally, but to find new external hires when the time is right as well.
5. Make an action plan for training
The quality, value, and efficiency of the training experience affect every aspect of the strategic upskilling initiative. The quality of curricula is particularly important when the training involves advanced technologies such as robotic process automation, artificial intelligence, smart warehouses, or digital fabrication.
When recruiting training providers, be explicit in communicating the objectives of the upskilling initiative, including the particular skills that will need to be developed. When selecting programs, your key criteria should be market recognition, track record, and trust built in the past through placing graduates in new jobs.
Once members of your team start their training, don't forget that they will still need your support. Set up opportunities for workers to communicate with one another via support groups, informal meetings, and online platforms to compare notes, catch up on classwork, and show solidarity with others who may be struggling.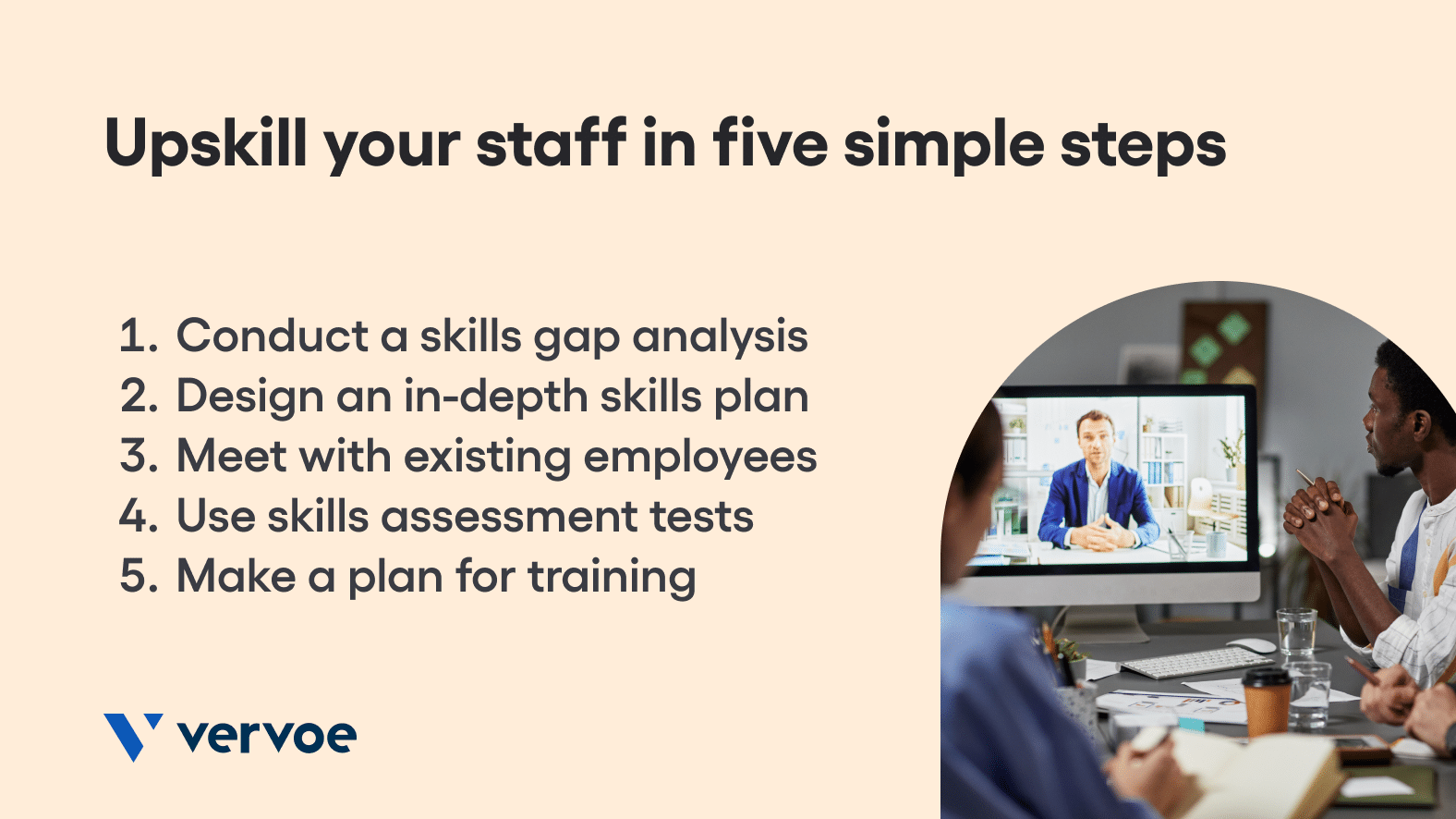 Learn how Vervoe can help you close a skills gap
Vervoe is an end-to-end AI-powered solution that is proudly revolutionizing the hiring process through skills testing and job simulations. Vervoe predicts performance using job simulations that showcase the talent of every candidate, simply by empowering businesses to create assessments designed to suit the specific requirements of a role.
By assessing an applicant's ability to perform the role through a skills assessment, our job simulations focus on the work — and not the person. To see people do the job before they get the job, book a demo today and let our experienced team run you through Vervoe's full range of skills testing solutions.