Diversity has been a topic of conversation for many years now, yet research shows that — despite the many economic benefits workplace diversity brings — companies are still just going through the motions rather than truly embracing it.
A report by The Josh Bersin Company has found that roughly 80% of companies pay lip service to the importance of diversity and inclusion, but do little to hold themselves accountable for measurable DE&I results.
[Read more: 5 Reasons Why Hiring Diverse Candidates Is Still Hard In 2021]
The business case for implementing initiatives to improve workplace diversity is overwhelming. Multiple studies show that companies that employ a diverse workforce — and empower it with an inclusive culture — achieve higher productivity, business performance, innovation, and a range of other benefits. Yet, many brands lag behind in embracing diversity initiatives.
[Read more: 6+ Powerful Benefits Of Diversity In The Workplace]
This guide will break down some of the staggering economic benefits that diverse companies gain over their competition. If there was ever a moment to embrace employees from different backgrounds, it's now. Here's what you need to know about the business case for diversity.
The diversity of the workplace needs to catch up with the diversity of society
To say that the workforce is becoming more diverse is slightly misleading. Society has always been made up of individuals from diverse cultures, ethnicities, races, religions, and orientations. 
Historically, however, many groups have been excluded from participating in the workforce. Changing attitudes and the global economy have widened access for a truly diverse workforce to emerge.
In fact, workplace diversity today isn't only defined by demographic information but by the motivating factors that inspire talent to join an organizations.
Despite the fact that the definition of diversity in society has evolved over time, business leaders are still struggling to integrate demographic diversity into corporate culture. Consider these statistics:
[Read more: 35 Impressive Diversity In The Workplace Statistics]
Racial and ethnic minorities are still being left out of key leadership positions — and are even excluded from employment opportunities at higher rates than their White counterparts. Women still face pay equity gaps and lack representation at high executive levels. Yet, the employees of tomorrow — Gen Z and Millennials — expect their employers to be thinking above and beyond gender diversity and ethnic diversity.
The bottom line: companies that fail to take measurable steps to improve diversity not only miss out on a talented labor force, but they also hurt their economic prosperity. Consumers are more aware than ever of the importance of workplace diversity. And, all evidence suggests that the economic development of a company is highly dependent on its ability to embrace cultural diversity and hire a diverse workforce.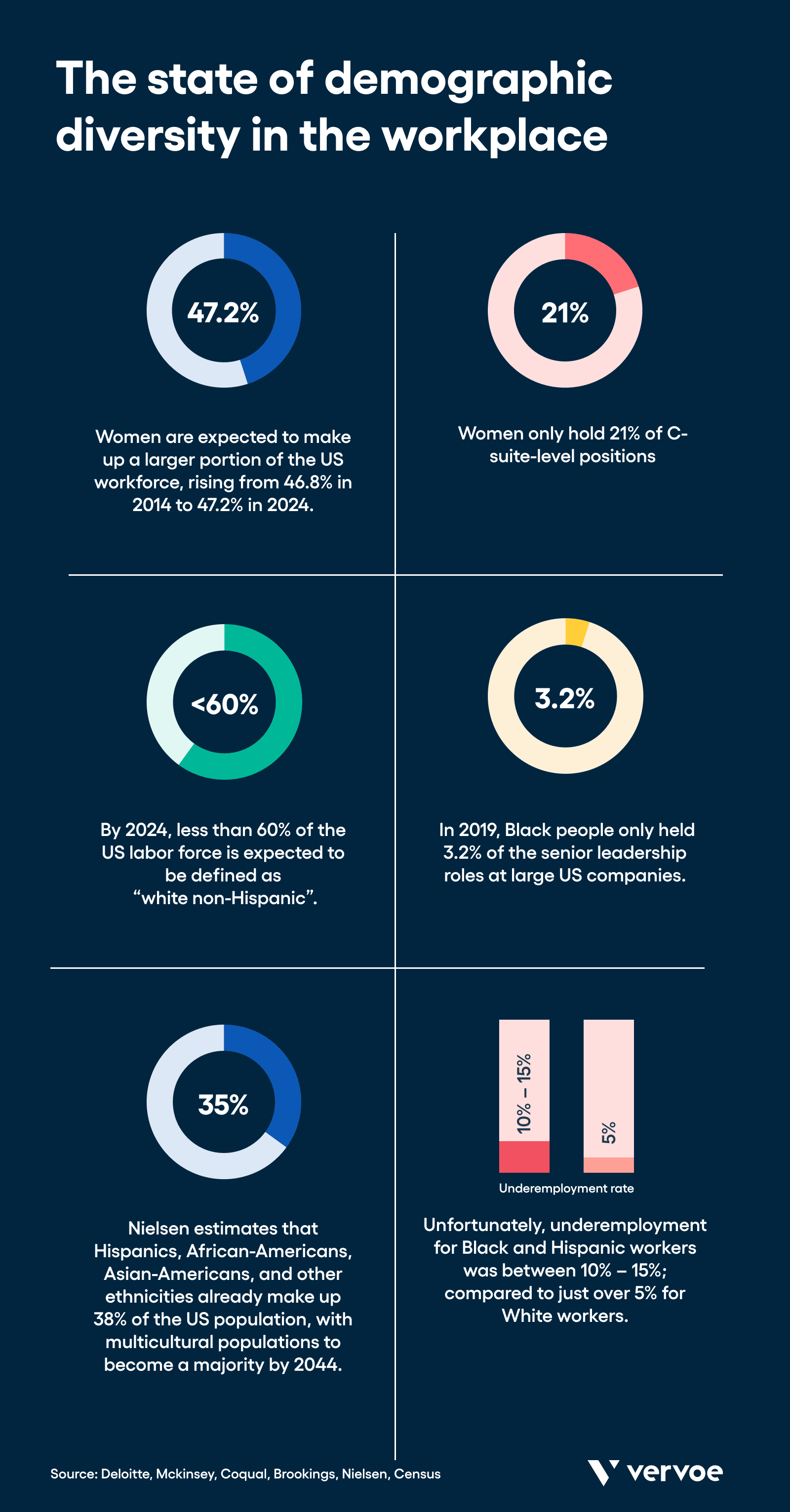 Diverse workforces bring disruption and innovation
One of the main benefits of hiring employees from different cultures is innovation. A diverse pool of employees — and a supportive, inclusive work environment — is better equipped to solve problems, think creatively, and ultimately, increase profitability.
The numbers show conclusively that companies with more diverse teams are more innovative.
Consider these statistics:
There are a few reasons why diverse workforces are more disruptive. When employees have the same background and same set of experiences, it's likely that they'll also have similar approaches to solving problems. Unfortunately, in-the-box thinking doesn't lead to out-of-the-box product ideas. Mixing perspectives and life experiences is what leads to real innovation.
[Read more: 6+ Powerful Benefits Of Diversity In The Workplace]
Many executives believe that a diverse workforce boosts innovation because more perspectives spur more creative solutions. But, diversity is only part of the equation. To capture the full benefits of diversity, organizations need to invest in creating an inclusive culture.
Increasing the number of traditionally underrepresented people won't automatically produce benefits in your workplace, according to the Harvard Business Review. You can't add diversity while continuing 'business continues as usual' and expect drastic changes in your organization's performance.
Bottom line: business performance depends both on hiring diverse talent and empowering them to succeed. It's not enough to increase your company's diverse groups. These groups must also feel comfortable sharing, problem-solving, and finding consensus in a supportive environment.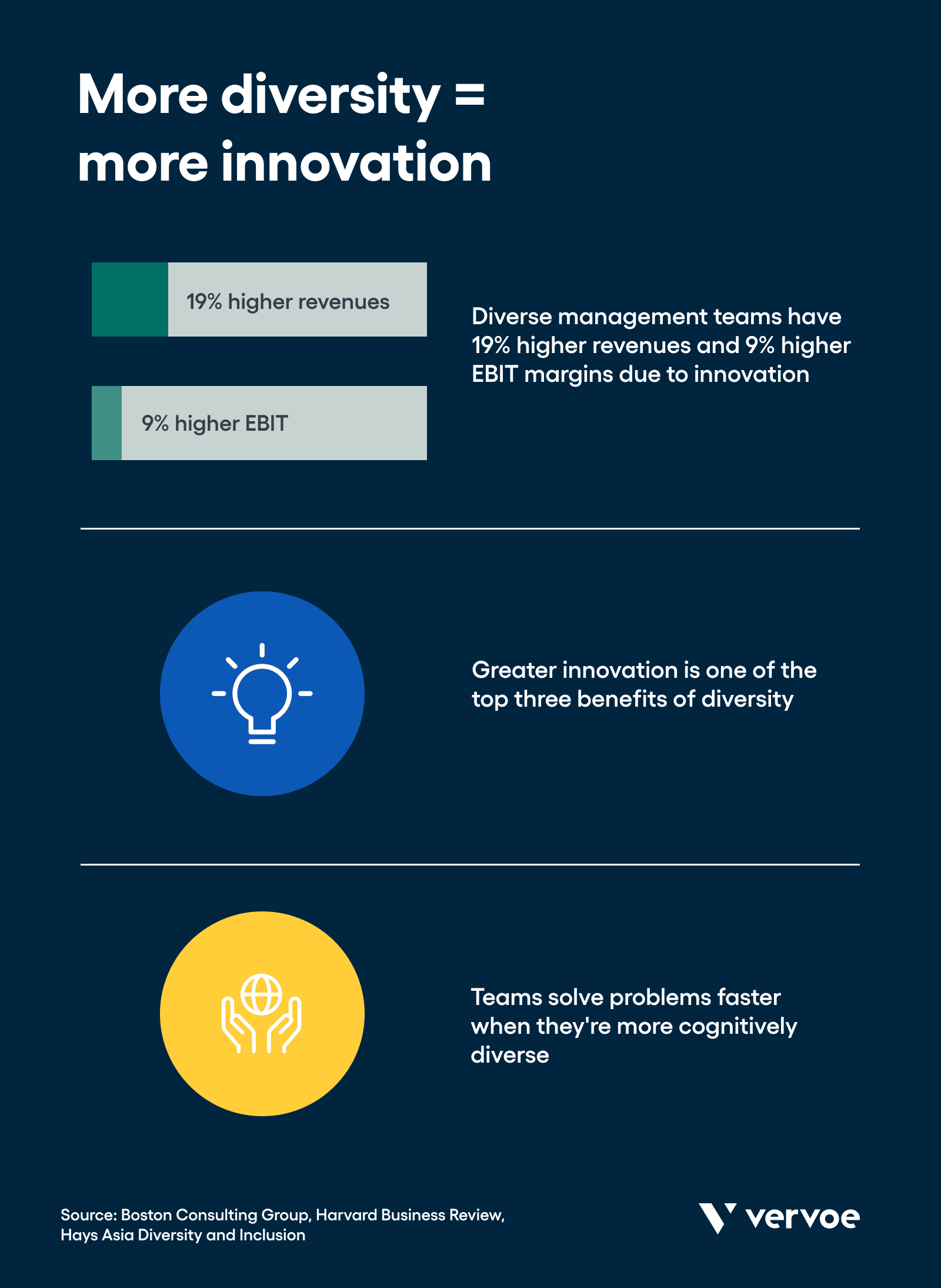 Diversity leads to tangible business benefits.
Innovation can be a hard thing to measure — but other business benefits are fairly straightforward. All evidence suggests that diverse companies outperform those that don't increase diversity across a range of business metrics.
What does diversity look like in high-performing companies? Minority representation on corporate boards is just one way to capture the positive impact of diversity in the workplace. Even in the face of the global pandemic, 54% of companies with women occupying more than 30% of the board delivered positive year-over-year revenue in 2020, according to Inc. This is compared to 45% of companies with lower gender diversity.
[Read more: The 39+ Most Diverse Companies In 2022]
The economic argument for inclusive workplaces is clear. More women and ethnic groups are making vital contributions to executive teams, firm performance, and economic success. But, it's not just gender diversity and ethnic diversity that makes the difference. Millennials, too, offer a way to embrace diversity in meaningful (economic) ways.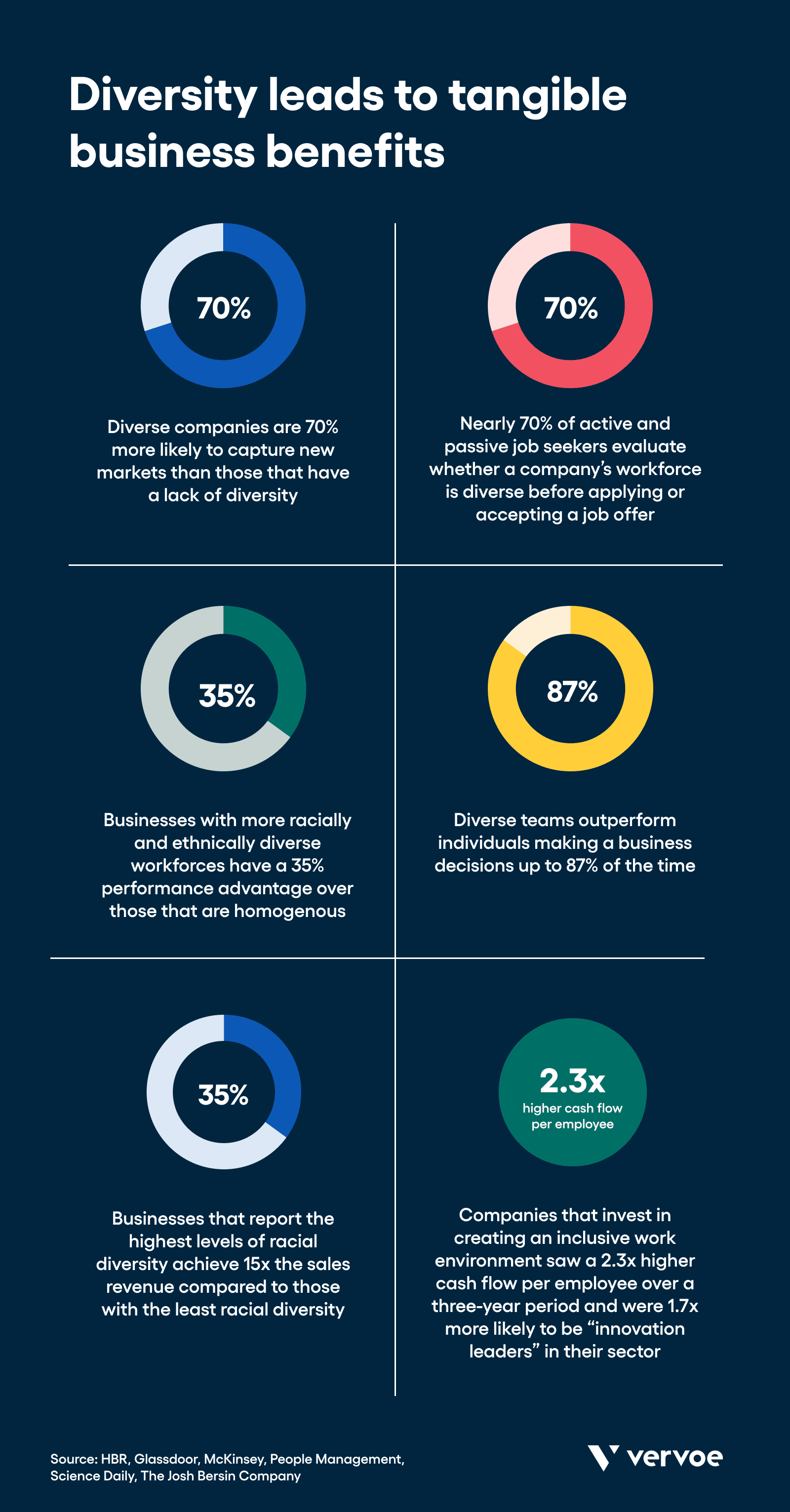 The impact of Millennials in the workforce
In the next three years, 75% of the global workforce will be from the Millennial generation: those born between 1981 and 1996. This group will take on the majority of leadership roles over the next decade. Pew Research shows that Millennials have brought more racial and ethnic diversity to society. Not only that, but Millennial women are more likely to participate in the workforce than previous generations.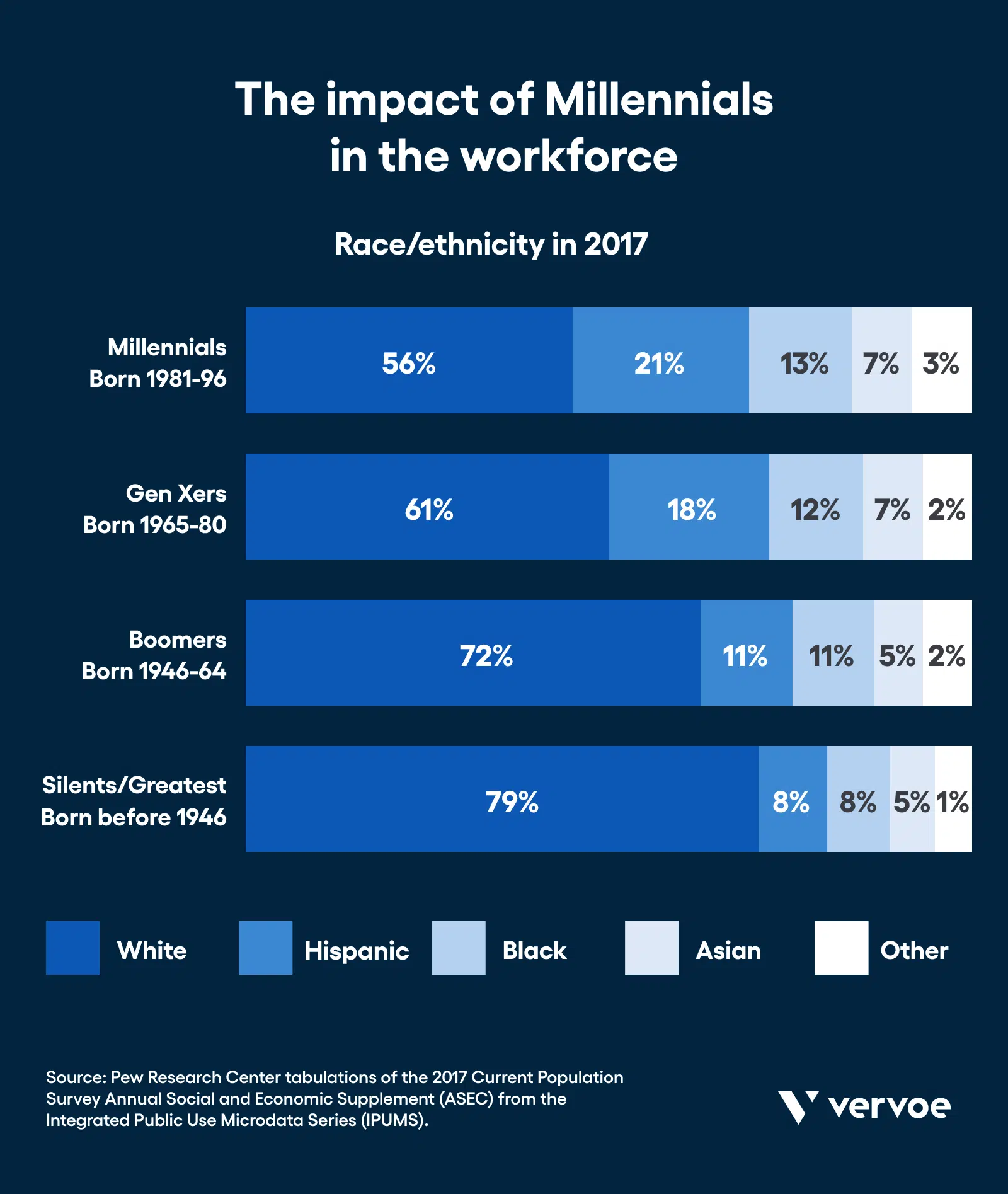 Understanding the diverse backgrounds, perspectives, and needs of this group can help companies unlock new insights about their customers, improve employee engagement, and boost profits.
According to PwC, millennials are the most racially and ethnically diverse adult generation in history. Fully capable of utilizing social media and digital platforms, this generation has been able to spearhead significant social movements from #MeToo to Black Lives Matter.
There are lots of age and generational-related stereotypes about Millennials, but their impact on the workplace is clear. These employees don't see their work as merely transactional. Instead, they want to work for companies that align with their values and goals. And, embracing diversity is part of that alignment.
For companies that want to retain Millennial talent — which, given their prevalence in the job market should be every company — investing in diversity is a mandate. Millennials are quick to abandon brands that don't take diversity and inclusion seriously (which might also contribute to Millennials' reputations as "job hoppers").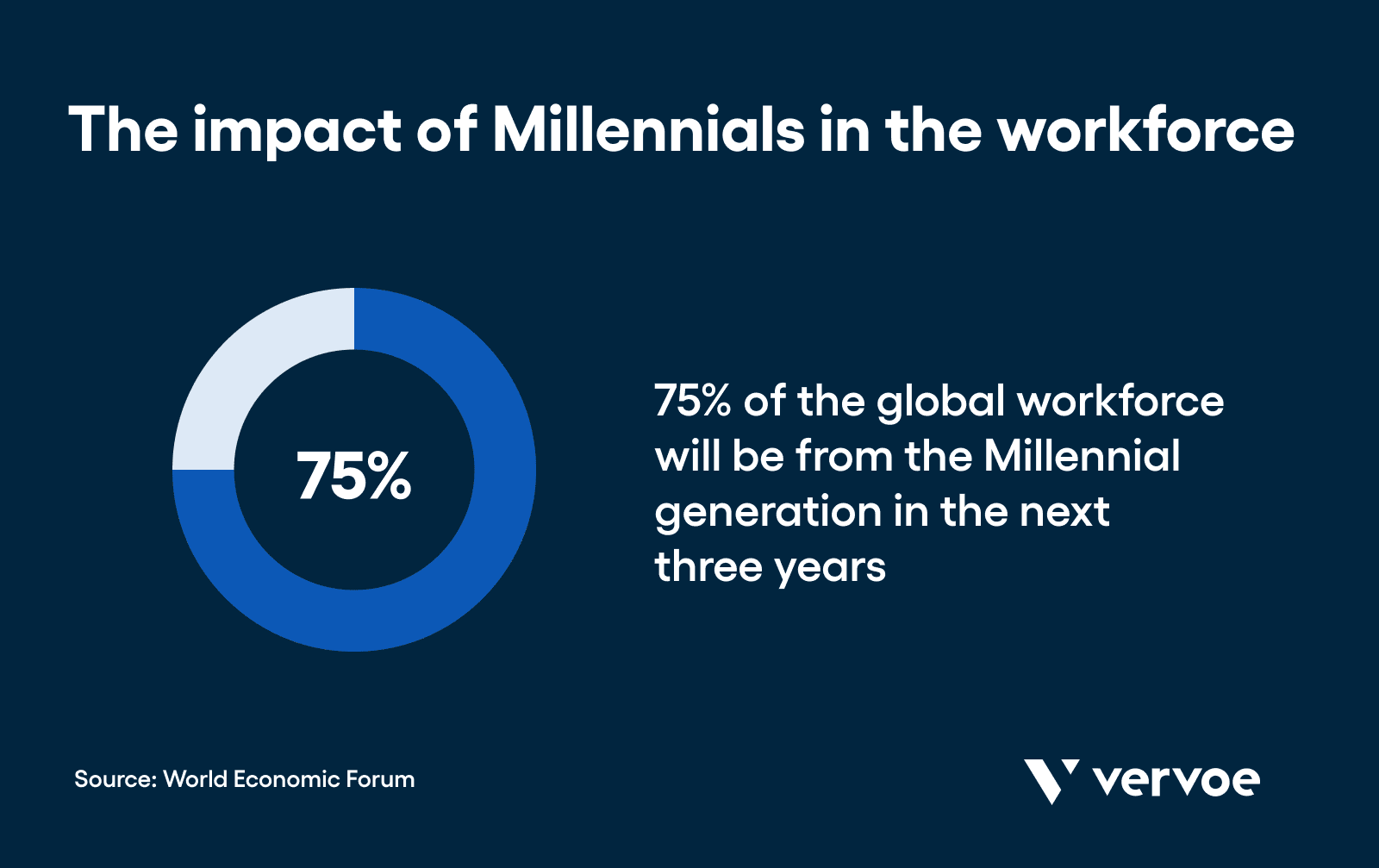 [Read more: 5 Benefits Of Age Diversity In The Workplace]
The impact of women in the workforce
For decades, women have been an underutilized asset in the labor market. This trend has begun to change, with some dips and peaks along the way.
Unfortunately, the pandemic has forced many women to leave the workforce.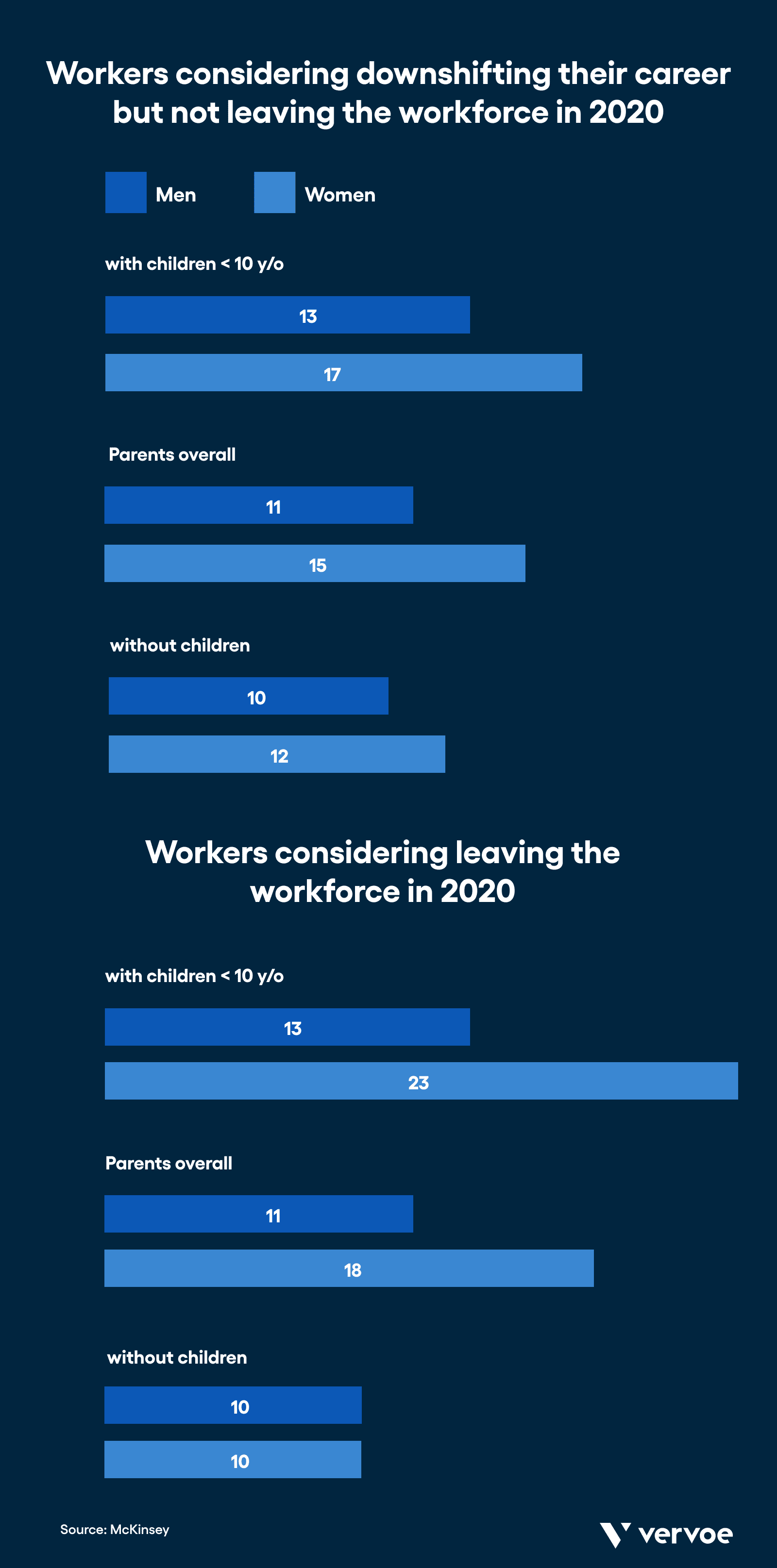 McKinsey and LeanIn found that one in four women are considering leaving the workplace, compared to one in five men. Working mothers, Black women, and women in senior-level positions are three groups that are struggling to "do it all". Facing high levels of burnout, exhaustion, and even payroll cuts or freezes, many women are dropping out of the workforce altogether.
Findings suggest that the global economy, not just individual companies, benefits from women in the workplace. Company profits and share performance can be close to 50% higher when women are well represented in senior leadership positions. When more women join the workforce, wages rise for everyone, including men. And, increasing the retention rate of women by just 5% can save a company with 50,000 employees up to $8 million per year.
So, what does this mean for companies? In short: investing in women means investing in everyone. Instituting company practices that enable women to participate equally can help generate economic growth across the board. This means closing the gender gap: equal pay, equal representation, and equal opportunities for everyone.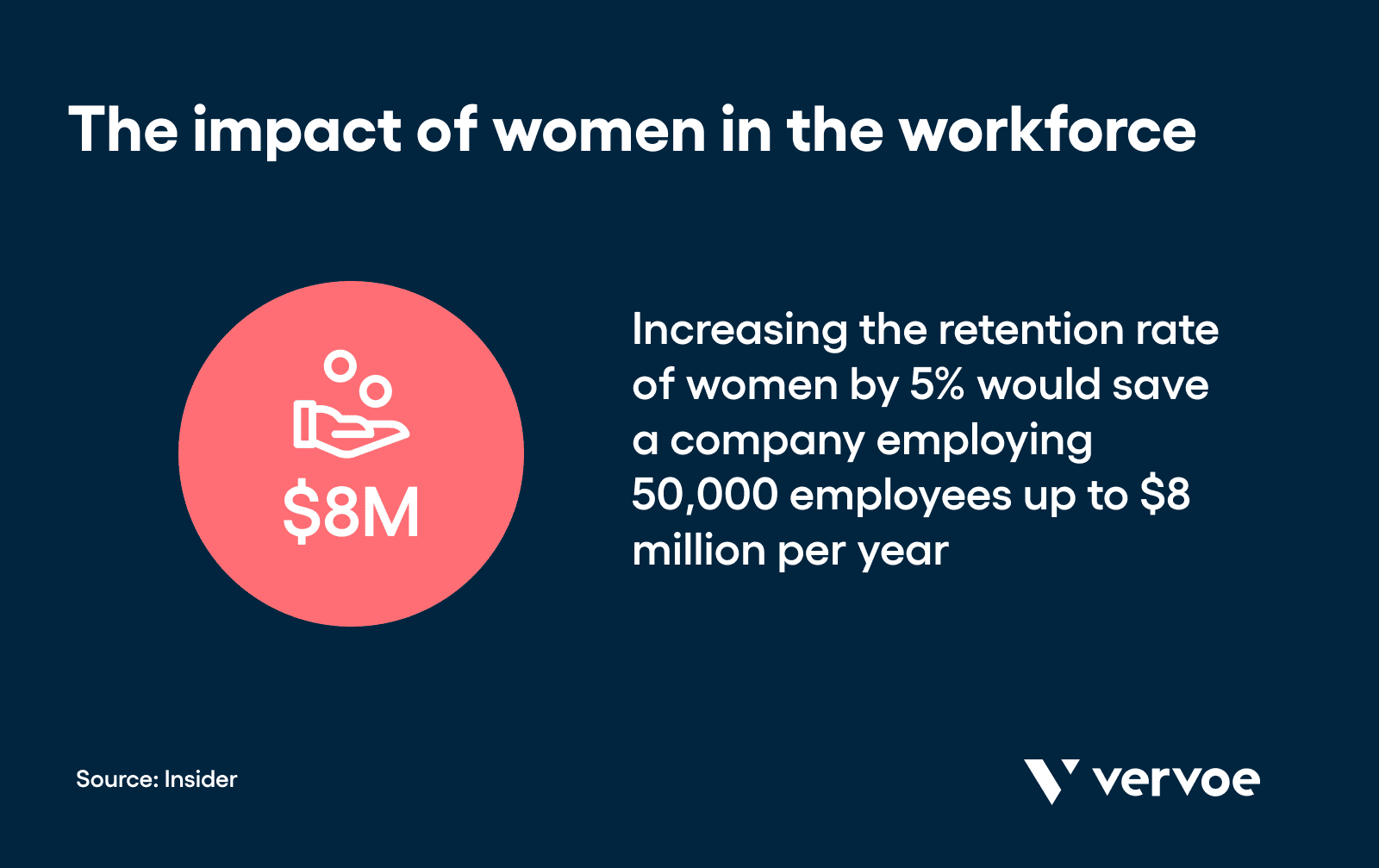 New definitions of diversity
Historically, "diversity" simply referred to increasing the prevalence of ethnic minorities, gay and transgender individuals, and foreign-born employees in the workplace. Diversity was defined by demographics and cultural differences. And, while that's still true to some degree, analysts are honing in on a more nuanced, detailed definition of diversity that produces meaningful business results.
Cognitive diversity is one such example. Harvard Business Review defines cognitive diversity as "differences in perspective or information processing styles". Cognitive diversity is not predicted by factors such as gender, ethnicity, or age. It can, however, improve problem-solving, and innovation, and contribute to economic success. Deloitte estimates that cognitive diversity can increase innovation by 20%.
Generational diversity is another new example of how human capital can lead to greater innovation. People of different ages bring different viewpoints to the table, helping to increase innovation and creative problem-solving. Generational diversity can also help companies better understand a diverse customer base. Yet, many companies narrowly define generational diversity goals as hiring more Millennials and Gen Z employees. Whereas bringing "Boomers" and Gen X workers to the team can have distinct benefits.
[Read more: How To Embrace Generational Diversity In The Workplace]
At the core of these two examples — generational and cognitive diversity — lies the real benefit of a diverse workforce: diversity of thoughts and ideas. It's these deeper, more granular metrics that make companies successful.
SHRM suggests that employers can conduct personality testing of the workforce or include open-ended questions on employee surveys to collect information about life experiences and other things employees may want to share about themselves.
The top 6+ economic benefits of diversity in the workplace
Despite the overwhelming evidence signifying that diverse workplaces thrive, many business leaders still struggle to implement hiring practices and employee engagement initiatives that improve diversity.
[Read more: 5 Reasons Why Hiring Diverse Candidates Is Still Hard In 2021]
HR leaders may still need to make the business case for investing in more diversity across organizational levels. If this situation sounds familiar, here are some statistics that demonstrate the economic benefits of diversity in the workplace.
Businesses that invest in hiring diverse employees are on more solid footing when consumption patterns change as a result of changing consumer demographics. They're more flexible, increasingly open to new ideas, and able to seize market opportunities that can lead to financial success.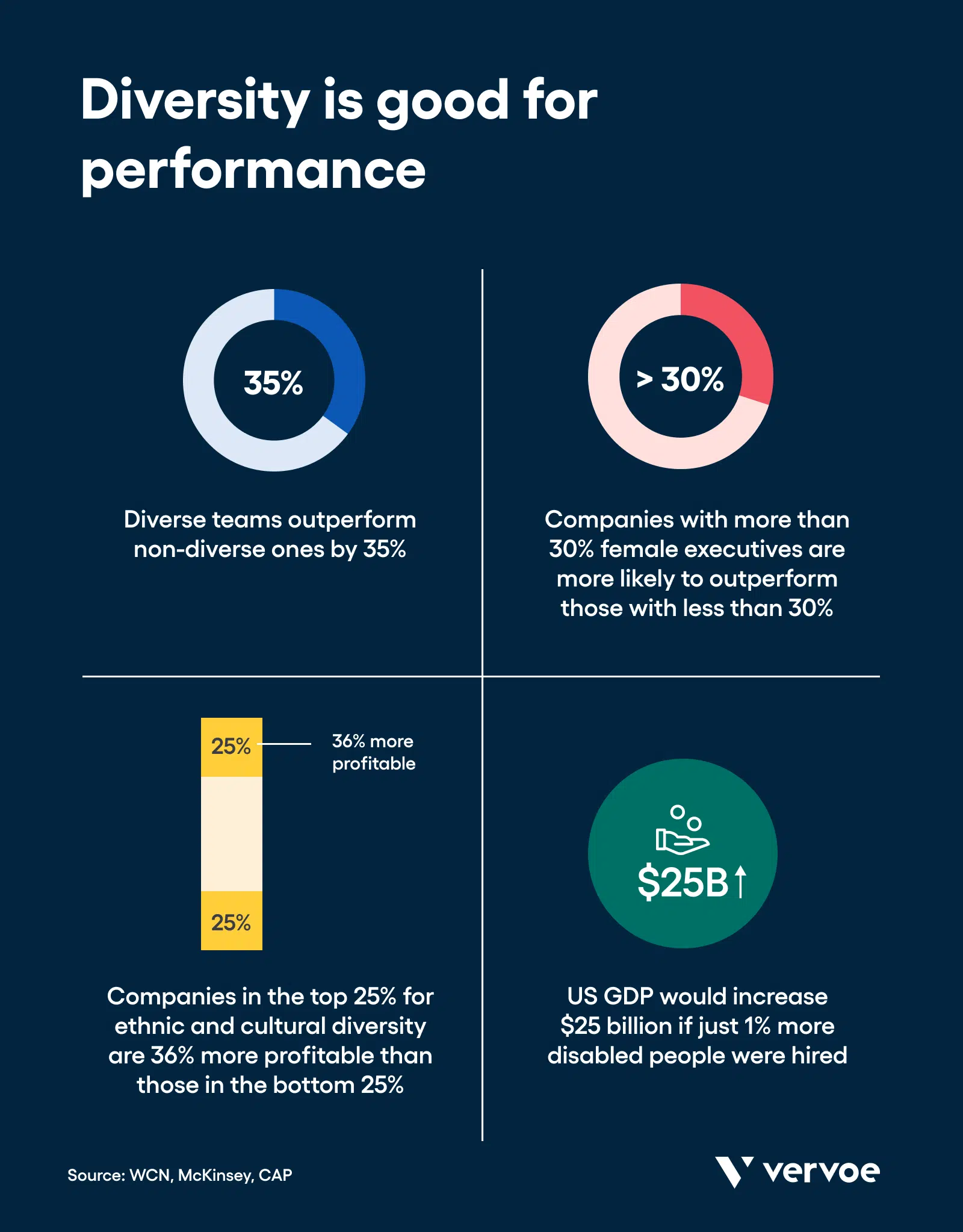 Conclusion
From Fortune 500 companies to the global economy, everyone benefits from greater economic development when businesses invest in fostering a diverse workforce. Over time, the expectations that consumers have of companies — and the way diversity has been defined — have evolved from demographics to less tangible indicators of diversity, such as cognitive diversity. The business case for diversity of all types is undeniable, and companies that don't take measurable action to improve diversity will struggle as Millennials continue to dominate the workforce.