Cybersecurity is a hot topic in recruitment circles, and for good reason.
While Forbes has touted expertise in this area as one of the top five technical skills to hire for in 2023, it's important to remember that this is a broad term used to describe a wide variety of job roles.
As organizations around the world continue to digitize their operations and data, the need for cybersecurity staff has grown exponentially. In addition, the rise of remote work has increased the need for professionals who can secure networks and devices from a distance, and safeguard the digital assets of companies across a wide variety of sectors.
Unfortunately, many hiring managers still aren't sure where to start when it comes to recruiting the right people for the right roles, as cybersecurity is an umbrella term that covers in-demand positions such as information security analysts, network engineers, and DevOps security professionals.
Hiring cybersecurity staff is not easy, especially if you're unsure of the type of role you need, what types of skills the person needs, or where to find them – so where do you start?
2023 market outlook for cybersecurity recruitment
The delivery of cybersecurity services, including consulting, outsourcing, deployment, integration, maintenance and managed services, is forecast to grow by 14.1% to USD $144.3 billion in 2023. What's more, is that this figure will account for 64.5% of the worldwide cybersecurity market in 2023.
According to the University of Maryland, hackers attack every 39 seconds, on an average of 2,244 times a day. With cybercrime on the rise, a growing number of corporations are now recruiting in-house cybersecurity staff instead of relying on outsourcing – but what can the current hiring trends tell us about this field?
While more than one million cybersecurity jobs will be available by 2023, less than 400,000 cybersecurity professionals will be fully trained by then.
As such, skills gaps and labor shortages are a key issue tied to cybersecurity recruitment. Although 464,000 in-house cybersecurity jobs have been filled in the past year, the cybersecurity talent gap has grown twice as much as the workforce, increasing 26.2% year on year.
By the end of 2023, modern data privacy laws such as GDPR (General Data Protection Regulation) will cover the personal information of 75% of the world's population. With a range of other countries introducing similar legislation, this is predicted to further fuel the global cybersecurity skills shortage.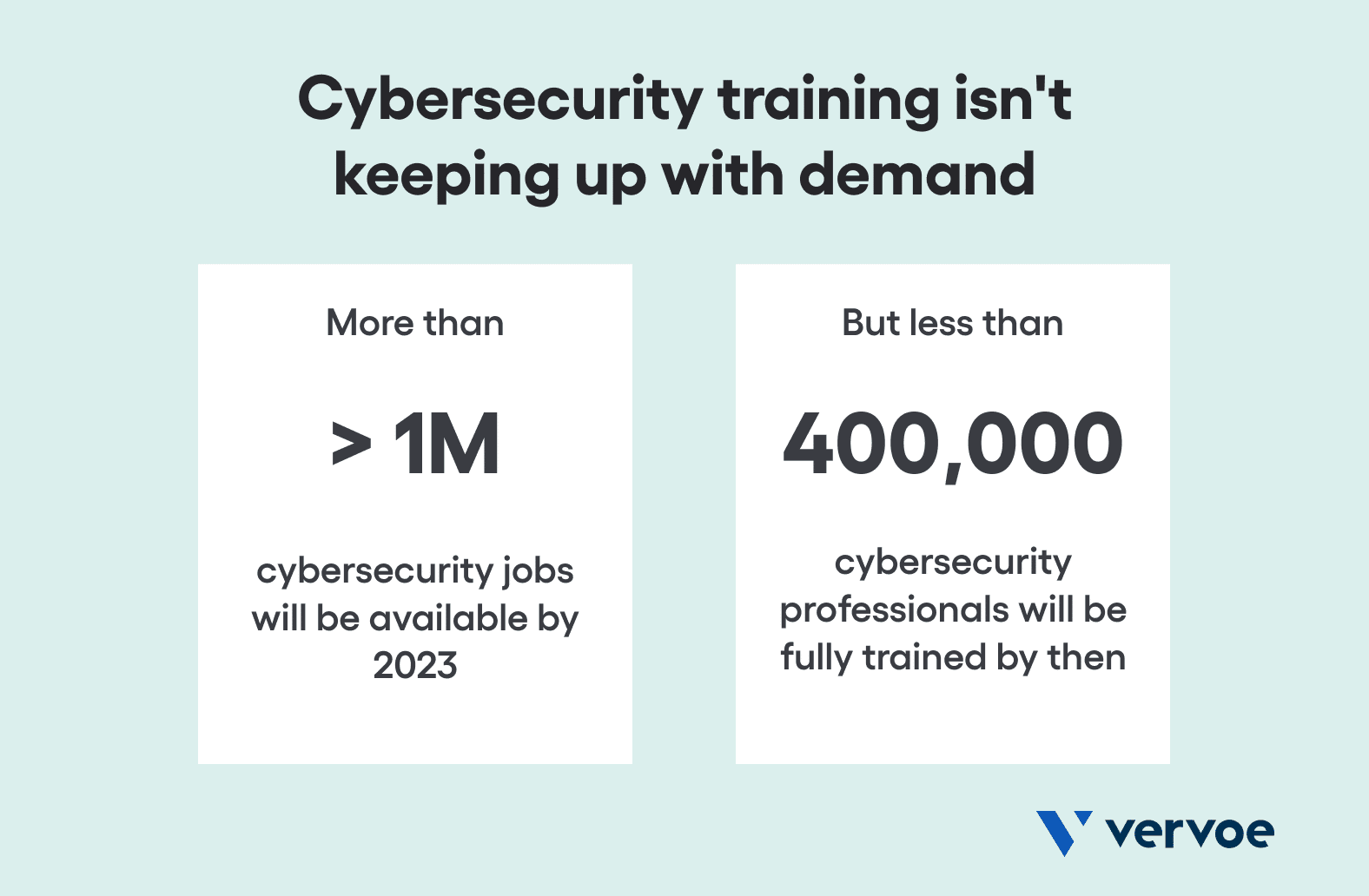 How to identify which cybersecurity staff your brand needs
Put simply, cybersecurity is no longer a topic that businesses can afford to ignore. For organizations that are late to the party, knowing where to start with cybersecurity recruitment can be a daunting task, particularly if hiring managers are relatively unfamiliar with the distinctions between some of the most prominent role types.
Typically speaking, cybersecurity staff ensure that company data remains safe from both internal and external security risks. Standard responsibilities of this department include –
Safeguard all company data by designing broad defenses against would-be intruders
Take the lead on day-to-day monitoring for unusual activity, defensive protocols, and incident reports
Work with the cybersecurity team to develop systems that stay one step ahead of cybercriminals
Maintain security guidelines, procedures, standards, and internal control documentation
Retain a working knowledge of current cybercrime tactics
While cybersecurity specialists not only know how to identify, prevent, and mitigate risks in real-time, they also stay abreast of any new threats. Once upon a time, hiring one person to be responsible for an organization's cybersecurity requirements was enough, but today, that's no longer the case.
Your first cybersecurity hire needs to be able to take care of the basics, but should also have the technical skills to address any existing vulnerabilities or weaknesses within your company's technology stack. This should be the starting point for beginning the development of a wider team.
Though this is applicable to hiring and managing across a variety of fields, finding a candidate that compliments and gels with the existing dynamics, skills, and individuals within your cyber and information security team is essential.
As such, your second hire should ideally be able to fill any skills gaps that your first cybersecurity staff member may not possess, and will help to shore up your company's defenses over the long term.
8 types of cybersecurity staff specialties to consider
As cyber threats become more advanced and training becomes more specific, there are now a number of roles that fall under the cybersecurity umbrella. As a reflection of these developments, in-house cybersecurity staff will often specialize in a key area and form a part of a larger team, which will often vary depending on the nature of the business and its scale.
As a general rule, very large organizations with established cybersecurity teams will often have a team member to cover each of the sub-specialties:
Architecture and Policy
Data Loss Prevention
Governance, Risk, and Compliance
Identity and Access Management
Incident Response and Forensic Analysis
Penetration Testing
DevOps Security
Secure Software Development
In contrast, smaller organizations with only a few cybersecurity staff members will have one person cover more than one specialization, or outsource some, or both.
As an example, you may need a cybersecurity analyst to monitor your network and systems for threats, a security engineer to design and implement security solutions, or a chief information security officer (CISO) to oversee your entire cybersecurity program.
By defining the roles you need, you can create job descriptions and requirements that will help you attract the right candidates and avoid any potential skills gaps.
The problem is that once recruiters have identified which cybersecurity staff they need to hire, many get lost in how to identify top performers.
Roles like information security analysts, network engineers, Linux administration, cybersecurity analysts, and even entry-level roles like service desk administrators are notoriously difficult to hire, as there has been no way to validate the claims on a candidate's resume – until now.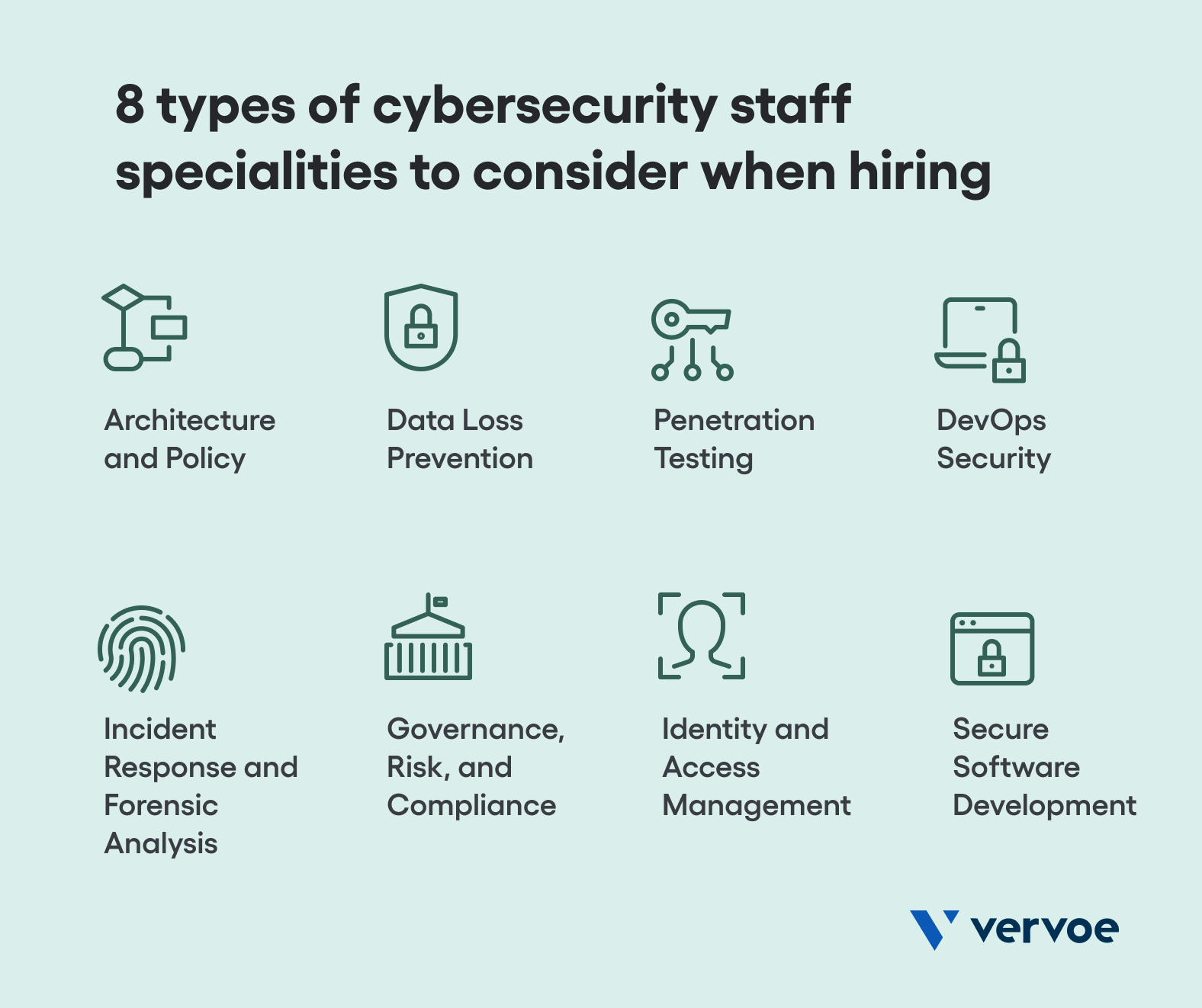 Why skills testing is essential for hiring cybersecurity staff
The experience and skill of a cybersecurity professional aren't metrics that can be measured via a standard interview — and yet, countless companies continue to use impractical and outdated recruitment methods to attract this type of talent.
In turn, this alienates candidates who are more than capable of doing the work, yet may not have the opportunity to showcase their skills during the interview process.
Ultimately, the future of effective cybersecurity recruitment is not necessarily tied to a candidate having the right degree, but having the right skills. By the time it takes to study for a degree in this field, the information absorbed may already be outdated.
To separate highly skilled candidates from those who simply claim to be, hiring managers and recruiters should be validating cybersecurity certifications through skills assessments that include job simulations.
Instead of relying on resumes, degrees, or even interviews, a job simulation places a candidate in a fully immersive experience to validate and verify their cybersecurity skills.
In addition to the basics, hiring managers are also able to place a candidate in role specific simulations, based on the type of work the cybersecurity specialist is expected to encounter on the job.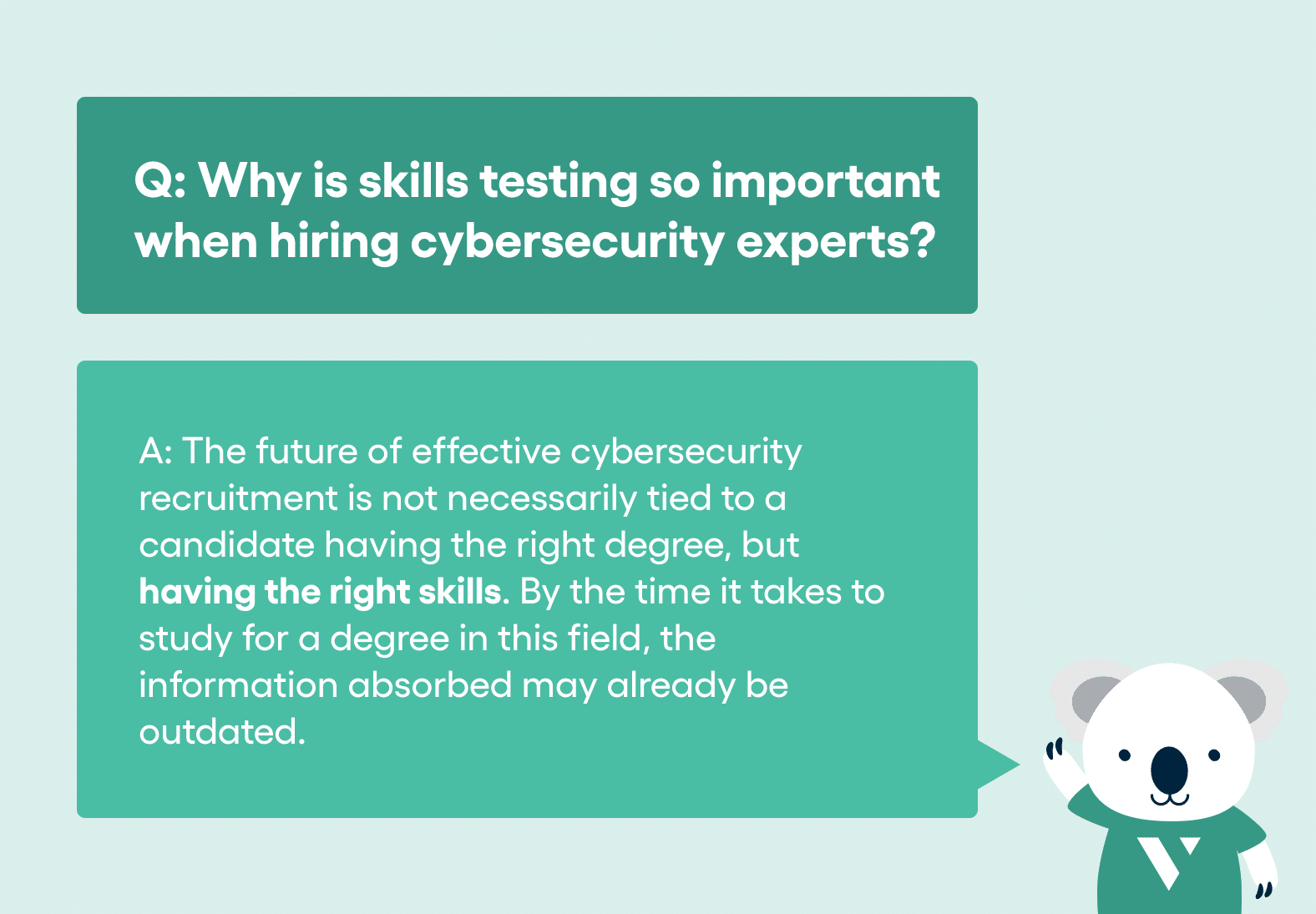 How our cybersecurity job simulations are revolutionizing recruitment
As one of the only recruitment tools that can successfully verify that an applicant can actually perform the required tasks in real-world settings, Vervoe's range of cybersecurity job simulations is helping hiring managers remove the guesswork from hiring the right people for the right roles.
The initial set of six cybersecurity job simulations tests beginner to mid-level ability in network security, where candidates will respond to a range of use cases including identifying failed logins, configuring firewalls, configuring web content permissions, checking sudo, setting up an SSL certificate and SSL guard.
All of the content within our cybersecurity simulations is responsive to these scenarios, meaning that hiring managers actually see a candidate's thought process and practical approach to solving the issues presented to them. Put simply, if they can't finish the tasks, there's nowhere to hide.
Designed to help recruiters make data driven hiring decisions, these simulations are ideal for testing the skills of system administrators, network engineers, cybersecurity analysts, and DevOps security roles.
Along with groundbreaking job simulations unlike anything else in the recruitment marketplace, our skills assessment library also has options for recruiters to test for a range of hard and soft skills including attention to detail, problem-solving, communication, risk management, planning and delivery, organization, and responsiveness.
Hiring the ideal cybersecurity expert for your organization involves far more than a candidate possessing the right degree. You can read about their skills on their resume or ask them about their background in an interview, but nothing will replace the power of seeing a candidate actually do the work — and this is where the magic of job simulations comes in.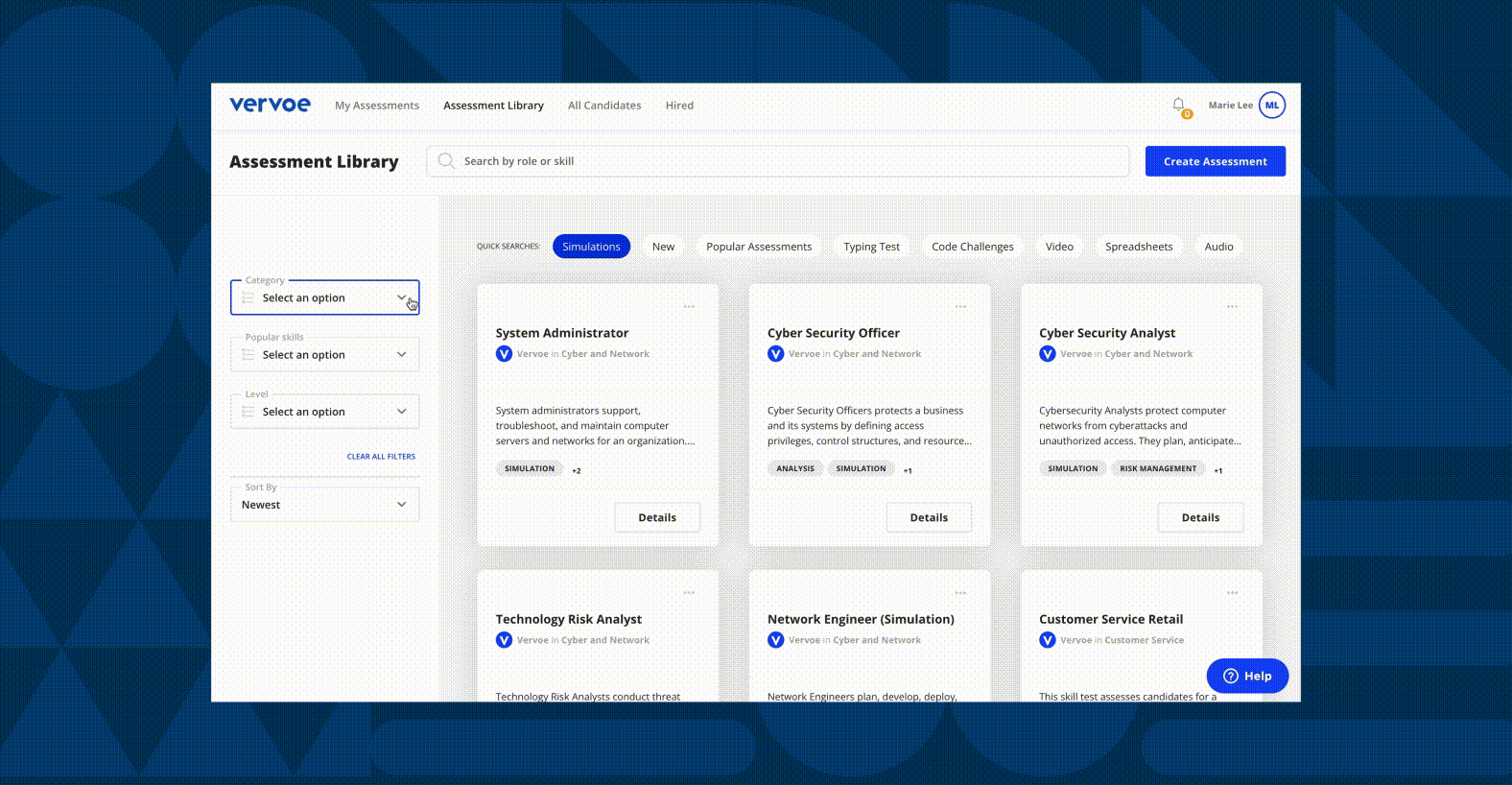 Talent stands out with job simulations
Vervoe predicts performance using job simulations that showcase the talent of every candidate. This way, you can confidently hire an expert without needing to be one yourself.
Proudly revolutionizing the hiring process one skills assessment at a time, Vervoe is an end-to-end solution that has just unveiled the future of recruitment: job simulations. By assessing an applicant's ability to perform the role through a skills assessment, our job simulations focus on the work — and not the person.
To see people do the job before they get the job, book a demo today and let our experienced team run you through Vervoe's full range of ready-made and tailored solutions.