Maintenance workers fulfill vital roles in their respective organizations — from providing support and key insights at the planning and coordination stages to providing hands-on work execution at the tactical level. These highly trained workers help to keep physical assets in optimal condition, save on operating costs, and improve brand reputation. However, to succeed at their duties, these employees need to have a unique combination of skills.
In this article, we're spotlighting four essential skills to help you shortlist and onboard the best maintenance workers quickly. Along with suggestions for interview questions you can ask to get more insight into a candidate's abilities.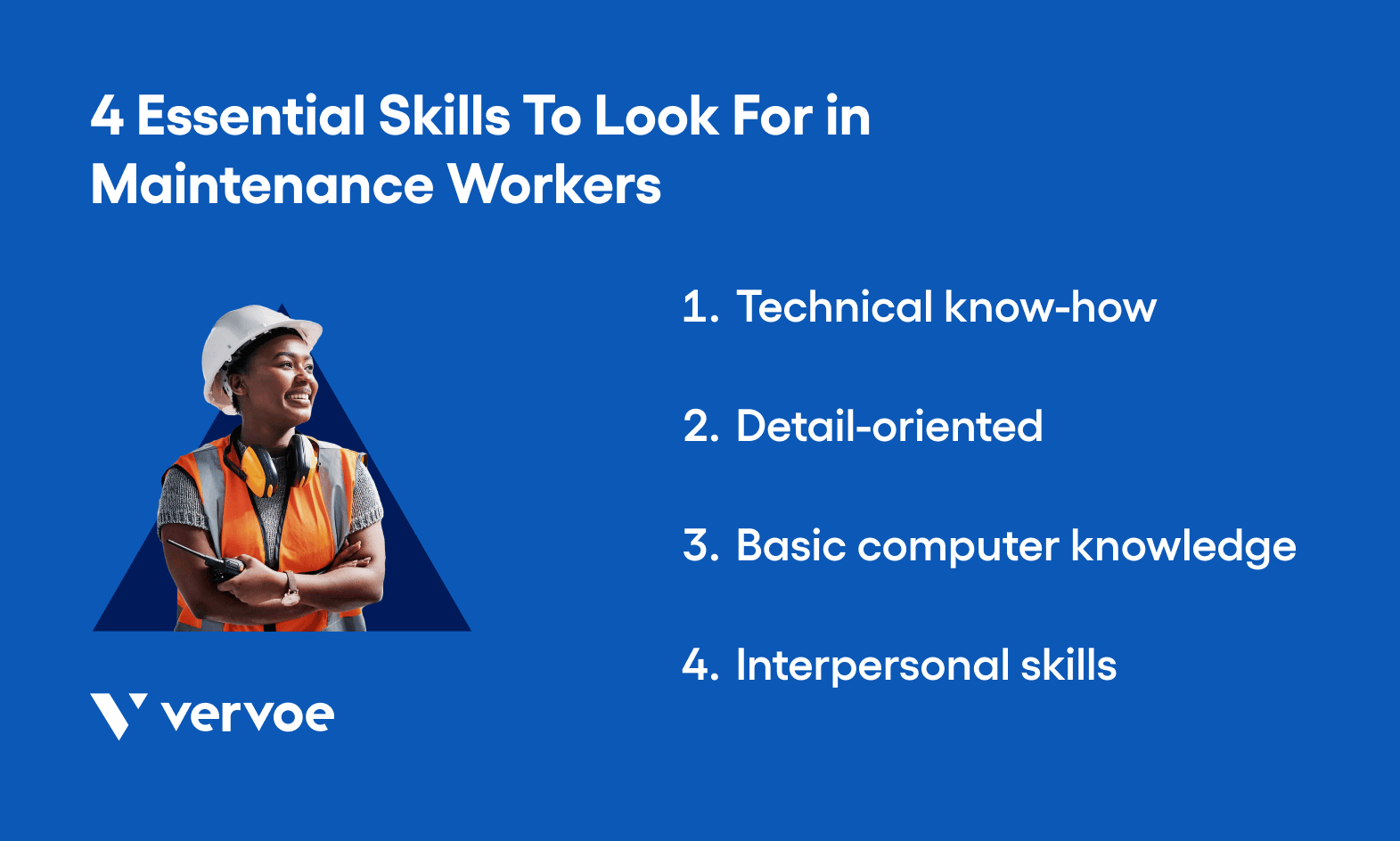 1. Technical know-how
Also known as hard skills, technical know-how is a core skill for maintenance workers. The ability to inspect, troubleshoot, and rectify issues that may arise on the premises is an invaluable asset for maintenance workers. Technical skills allow them to resolve issues with machines or buildings and it's a core duty for maintenance workers. It's usually one of the first things that a prospective employer will want to ascertain during the interview and recruitment processes.
Of course, the depth of technical skills required will depend on whether the candidate is a maintenance technician who services and repairs equipment like HVAC units, or a member of support staff — like a janitorial or administrative worker.
In the latter case (support staff), you would assess them less on technical skills and more on their general knowledge of basic machine operations and safety requirements. For technicians and other technical staff, the importance of having the right training and technical competencies cannot be overemphasized — considering how poor technical know-how impacts the performance and productivity of the entire maintenance department.
For instance, poor technical competency will lead to frequent rework and a waste of time and spare parts.
Fortunately, there are several pointers that can give recruiters an idea of an applicant's technical skills. They are built over time through tacit knowledge (personal experience on the job), in addition to relevant training and certifications, etc.
Possible interview questions
In your opinion, what are the must-have technical skills that you'd recommend for someone just starting this job?
Can you give us a quick rundown of three of your most important duties during a typical workday and how you would normally execute them?
These kinds of questions help to assess their suitability for the job and gauge their understanding of their work requirements. In addition, it's vital to conduct skills testing to help interviewers further determine technical skills and competencies.
2. Detail-oriented
Regardless of the type of facility that they oversee, maintenance workers are often expected to work in a fast-paced environment. Sometimes, these facilities are high-risk ones with little room for mistakes (e.g. manufacturing plants and hospitals). Paying attention to details and being ever conscious of their immediate environment is crucial and could be the difference between having an accident at work or having a successful day. That takes us to another crucial benefit of being detail-oriented, which is spotting problems before they occur – in other words, proactivity.
Proactivity effectively summarizes optimal maintenance. Proactive maintenance workers are skilled at spotting potential issues: they try to imagine what could go wrong, and they take the initiative to prevent it. This provides the added benefit of quick intervention that can prevent problems from escalating at any facility. From issues like preventing fire to averting flooded offices, proactivity can save your company from a host of operational problems.
Keep in mind that proactive maintenance is a synergy of two parts. On one hand, the maintenance program, plans, and schedules must be proactive, so the staff maintaining the premises needs to have a proactive mindset.
Instead of waiting for problems to happen and then frantically trying to resolve them, proactive staff demonstrates foresight by conducting frequent inspections and escalating issues that they can't handle by themselves. The combined quality of being detail-oriented and proactive is a key skill to look for in maintenance workers, especially when recruiting for positions like a maintenance supervisor.
Possible interview questions
Mention one situation where you noticed a possible problem and took action to prevent things from getting worse.
Mention two major hazards commonly encountered in your job. What's the best way to spot these hazards and mitigate them?
3. Basic computer knowledge
Adults who lack sufficient computer skills have a lower chance of finding employment, especially in technology-rich environments like maintenance. Around 50% of adults in this category find luck, with recruiters making this a vital skill to consider both for recruiters and applicants.
Maintenance work continues to evolve. Gone are the days when maintenance workers would come to work and remain behind the scenes all day, working frantically in overheated boiler rooms or hunched over noisy machinery. These days, maintenance workers often need to interact directly with customers, attending to their inquiries or generally helping them to get a better building user experience.
To fulfill their routine duties better, maintenance workers need some computer knowledge. In particular, it's important that they can utilize software like word processors and cloud-based solutions like computerized maintenance management systems (CMMS). Again, with the increasing popularity of smart buildings, being unable to use a computer and other related devices can severely limit a maintenance worker's productivity.
In addition, maintenance workers may occasionally need to handle administrative tasks, such as invoicing clients and contractors, updating computerized equipment history, and following up on repairs. These tasks require a basic understanding of how to navigate a computer interface, at the minimum. It's becoming impractical to succeed in maintenance work without some computer knowledge.
Possible interview questions
Do you have experience with using computerized maintenance software or computers generally? Discuss some of the programs you've used.
Have you encountered challenges with using software in the past and how were they resolved?
4. Interpersonal skills
We've mentioned some essential hard skills and there was a time when those skills were enough to succeed in maintenance work; after all, maintenance work originated from the manufacturing industry. Staff would come in early, work on machines all day, do a good job, then go home — and that was sufficient for those times.
That model is no longer the norm. The new reality of maintenance work is that workers interact more frequently with building users, customers, and clients. In a typical organization today, the maintenance unit must interact with customer care, HR, accounts, and other departments.
Thus, companies are increasingly recognizing the importance of interpersonal skills when hiring maintenance staff. These skills include — but are not limited to — teamwork, active listening, problem-solving, and communication.
Establishing whether a candidate has good interpersonal skills can be tricky, but it's necessary —- your organization wouldn't benefit much from recruiting highly-skilled workers that can't get along with others. Instead, you should aim to strike a balance between hard and soft skills by recruiting well-rounded individuals to your team.
Classified under soft skills, "interpersonal skills" generally refer to those non-technical attributes that influence how employees perform their primary work duties and how well they interact with others in the workplace.
Unlike hard skills, which are relatively easy to pinpoint and measure, soft skills are somewhat tricky to assess. Unfortunately, one staff member with poor interpersonal skills tends to affect other members of the team by dragging down overall morale. This shortcoming can result in problems like divisiveness and disunity. Sadly, poor interpersonal skills usually become glaring when it's too late and the worker has already joined your workforce.
When you're interviewing maintenance workers, it's vital to find workers that demonstrate a good blend of technical skills, but are in control of their emotions and display empathy for the feelings of others — that's emotional intelligence in a nutshell.
That may sound simple enough, but a lack of emotional intelligence can negatively impact productivity and other workplace parameters. There's little benefit to having highly-skilled workers that can't get along with others. Instead, aim to strike a balance between hard and soft skills and recruit well-rounded individuals to your team.
Possible interview questions
Can you discuss two difficult situations that you've faced with other staff?
How were the issues resolved and were you satisfied with the resolution?
Conclusion
For your next recruitment assignment, you might find yourself having to interview and recruit a team of efficient maintenance workers. Hopefully, this post gives you the information you'll need to enlist the best candidates for your clients. In addition, when recruiting maintenance staff, or other others, always strive to put out highly-detailed job descriptions, to improve your chances of attracting the most qualified candidates.
---
This was a guest post written by our friends at Limble