Why do companies like yours choose Vervoe over TestGorilla?
Vervoe has the biggest role-based skills assessment library to help you test candidates' skills in the context of the job they're applying for.
Our immersive question types like embedded spreadsheets, presentations, and media-based multiple choice keep candidates engaged.Open-ended questions bring endless possibilities; create an email, write a marketing plan, analyze data then share findings all while our AI instantly grades these responses for you.
We also boast the only Interactive simulations in the market that replicate the tools used on the job so you can truly see candidates do the job before they get the job!
What makes Vervoe different from TestGorilla?
The main difference between Vervoe and TestGorrilla is TestGorilla tests recall knowledge (quiz-like) rather than in context, practical, immersive and on-the-job skills tests.
From the content of questions to the correct answer and even the way the AI grades your candidates. We let you personalize your experience at every step.
Want to know which job board your top candidates come from? Or the questions in your assessment candidates like the most? We can tailor a report for you.


Our library is packed with assessments that already contain multiple skills so you don't have to guess which skills are actually required for success in your role.
Testing skills vs knowledge are very different things. With enough luck, anyone can pass a multiple choice test but sharing your knowledge is empowering
Anti-cheating = Peace of Mind
From plagiarism detection to irregular location notifications you can feel confident the responses your viewing came from the candidate you want to hire!
"Everyone wants to hire superior talent. Vervoe allows us to scale and hire top candidates based on merit."
David Castro
Walmart
"One of the most pleasing, yet unexpected, results is the faith the business now has in our ability to find the right people for the roles."
Spencer Timmins
Australia Post
"I'm not aware of a comparable competitor to Vervoe… I don't think it's actually possible to do what Vervoe does any other way."
Daniel Stockdale
Dentsu International
"Vervoe increases the interview-to-hire success rate, and streamlines the candidate selection process knowing that the candidate will be right."
Jon Story
KForce
See a side-by-side comparison of Vervoe and TestGorilla to help you make the best choice and decide which one is best for your business needs.
Complete candidate profile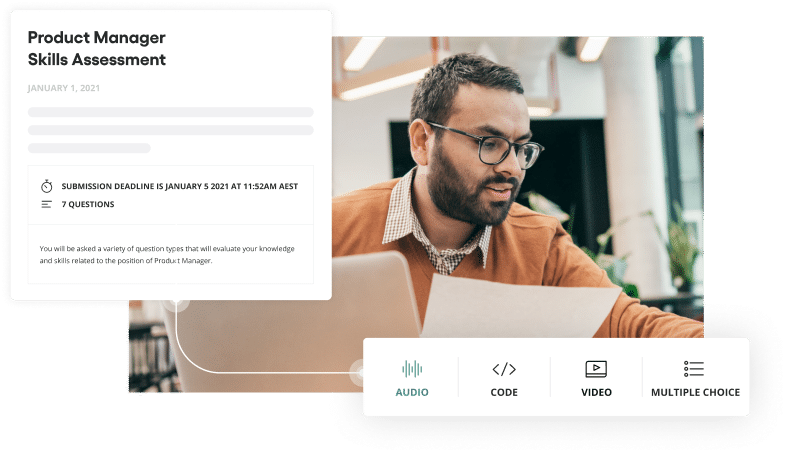 Every business has unique attributes so why would you use the same assessment as everyone else? Find true culture fit and the missing piece to your existing puzzle with an assessment customized to your exact job description. We offer an extensive library of assessment templates to help get you started or our powerful assessment builder will create a bespoke one for you in a matter of minutes.
Comprehensive industry knowledge
We've helped over 8,000 global customers across every industry find top performers and reduce employee churn. We know that an enterprise business requires data sovereignty and priority SLAs. We know that a small business owner just wants help to validate the skills of a new role. We know that every business values the skills required for each role slightly differently. Let our industry benchmarks help take the guesswork out of your hiring.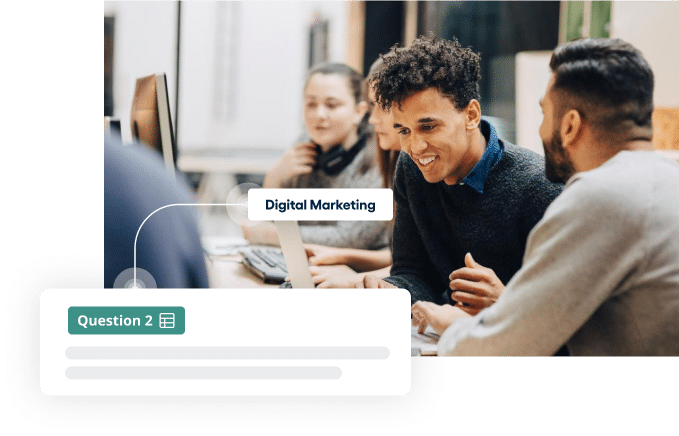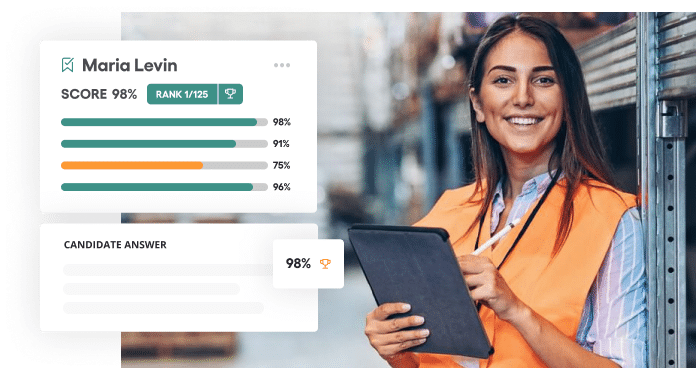 Review and analyze human behaviour
No two candidate's are the same so they shouldn't be graded the same. Our AI tracks each individual's interaction with an assessment along with the content of their responses to provide you with an accurate grade for their assessment.
With over 300 templates available, written by leading I/O psychologists. Everything from graphic design to sales reps, each test has a range of different question types that you can customize to suit your own unique needs.
| | | |
| --- | --- | --- |
| | | |
| | | |
| | | |
| | | |
We offer a range of different question types to help engage and immerse candidates in the role. From coding challenges in 8 languages to presentations and live spreadsheets, our assessments create an experience that tests how candidates will really perform day-to-day tasks.
| | | |
| --- | --- | --- |
| | | |
| Multiple-choice with media | | |
| | | |
| | | |
| | | |
| | | |
| | | |
| | | |
| | | |
| | | |
Welcome candidates to your organization with a fully branded assessment. Include your logo and brand colours, personalize platform messaging and communicate your values with video introductions. Vervoe's flexible platform lets you curate an online recruitment process tailored to your business.
| | | |
| --- | --- | --- |
| | | |
| Customized candidate messaging | | |
| | | |
| | | |
| | | |
| | | |
| | | |
Enterprise-grade data security for your peace of mind. Vervoe is ISO/IEC 27001 compliant with localized data sovereignty​. We're also GDPR compliant with user-based permissions to manage information sharing​​. With Industry-accepted best practices and frameworks to protect your data.
| | | |
| --- | --- | --- |
| | | |
| Enterprise-grade security | | |
| | | |
| CSV data export to your ATS | | |
With Vervoe it's easy to make hiring collaborative. Easily share candidate report cards, allow hiring stakeholders to review and grade responses, and add notes and comments keep your whole hiring team in the loop.
| | | |
| --- | --- | --- |
| Shareable candidate report cards | | |
| | | |
| | | |
| | | |
Complete candidate report cards breakdown an applicant's performance by skill with options to review individual responses and compare candidates side by side. Drill into assessment stats like top performing invite channels with Vervoe.
| | | |
| --- | --- | --- |
| | | |
| Completion rate and response insights | | |
| | | |
| | | |
| | | |
| | | |
Vervoe integrates with all of your favorite recruitment and workflow tools so you don't need to change the way you work. From Greenhouse and SmartRecruiters to Zapier you'll be connected in minutes with Vervoe immersed in your existing hiring process.

Premium white glove support for both you and your candidates including training, optimization, bespoke reporting and custom content.
| | | |
| --- | --- | --- |
| | | |
| | | |
| Dedicated client executive | | |
| | | |
| | | |
| Assisted set up and onboarding | | |
Premium white glove support for both you and your candidates including training, optimization, bespoke reporting and custom content.
| | | |
| --- | --- | --- |
| | | |
| | | |
| | 1 (candidate credits can be used across multiple assessments) | |
| | | |
| | Multiple Choice, File Upload, Text, Code Challenges, Video, Audio, Embedded Spreadsheets, Embedded Presentations, Numbers, Multiple Choice with Embedded Media Types, Typing Test | Multiple Choice, File Upload, Essay, Code Challenges |
| | | |
| | | |
Frequently Asked Comparisons
What's the difference in testing between TestGorilla and Vervoe?
The main difference between Vervoe and TestGorrilla is that TestGorilla tests recall knowledge (quiz-like) rather than in context, practical, immersive, and on-the-job skills tests. Being mainly multiple choice questions on a TestGorilla test also means the likelihood of a candidate scoring average to high increases regardless of their actual on the job knowledge and ability. 
Vervoe uses a range of question types to simulate real tasks and projects that candidates would face if they actually got the job. These question types allow for candidates to share more than just knowledge of a subject or tool.
What's the difference for a candiate?
Vervoe offers a much better candidate experience, with stronger employer branding, and candidate support capability including SLAs. On average candidates rate their experience of Vervoe at 98% satisfaction. Being allowed to showcase their skills is often a standout for them and helps them feel they've put their best foot forward.
Vervoe also has a much more robust candidate reporting and individualized score cards for internal comparison, mobility, and collaboration.
Are your anti-cheating measures effective?
TestGorilla's anti-cheating monitors candidates via video proctoring for around 90% of the assessment time this can cause candidates to drop out of the test flow, whereas Vervoe does not support video proctoring and our anti-cheating measures of randomisation, geolocation and plagiarism aim to balance integrity and candidate privacy. Our anti cheating measures are of industry standard and powered by AI to further remove bias.
Who are your assessments for?
TestGorilla is predominantly positioned for the SMB market with limit features to support enterprise hiring. Vervoe has a strong track record of supporting the entire market from SMB, mid-market and Enterprise and has an established feature set that all customers regardless of size can access meaning you can hire like Walmart even if you only have 40 employees.