Complete with job descriptions, skill profiles, and interview templates. Use this Recruiter hiring guide to help you make the right decisions, fast.
What does a Recruiter do?
A recruiter's role is to match suitable candidates to job opportunities on behalf of employers. Recruiters typically specialize in a specific industry or area. A recruiter may specialize in financial planning within the banking and finance sector, or only work with hiring managers and candidates looking for contract work. This means they have an intimate knowledge of the market – what employers are looking for, what jobs are in demand, what positions are available within the sector, who's applying for roles and what a stand out candidate looks like.
Day to day tasks of a Recruiter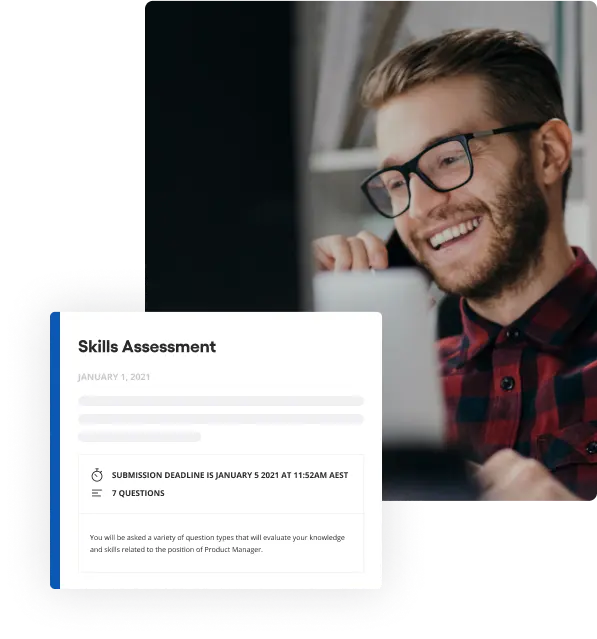 A Marketing Assistants' primary responsibility is to support the work of marketing managers and executives on all marketing campaigns and projects. They will also work closely with employees in other functions, such as advertising, market research, production, sales, and distribution.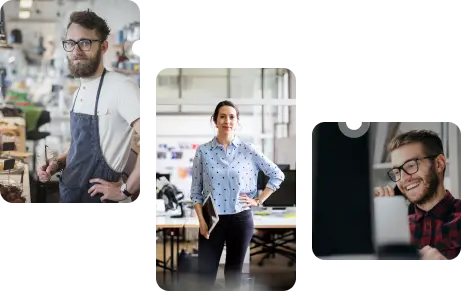 Build the Ideal Candidate Profile​
To find the best person for the role, you need to understand what the role involves. You can complete this with the hiring manager to define the role, its contribution, and the skills needed.
Write A Job Description Based On Skills
Once you understand the requirements for the role, you'll need to understand the skills for success. You can then write an effective job description to promote your role.
Selecting The Ideal Candidate
See which applicants have the right skills for the role. Send all your applicants a Vervoe skills assessment from the expert library, or customize one for your organization.
Interview Top Performers
Your skills assessment results will identify top performers. Focus your time on interviewing those that have met or exceeded your requirements. Assessment results will also help guide which skill areas to focus on in the interview.
Making An Offer
Once you assess your candidates against these skills, you're ready to offer the top performer(s). You should base your offer on the value that the candidate would bring to your team and your business as a whole. It is also important to ensure your compensation and benefits packages are competitive in the industry and help you attract and retain the top talent.
Build the ideal candidate profile
Skills needed for a Recruiter
A marketing assistant must have excellent stakeholder management skills and a good understanding of the content requirements for marketing. They will be across all forms of social media and understanding various marketing strategies at a high level.
For entry-level roles, you're likely to receive a larger number of applications than you would for a senior position. Ensure you provide details about what it's like to work for your company, and what your company values are so applicants know whether your company is the right fit for them.
WRITE A JOB DESCRIPTION BASED ON SKILLS
How to write a Recruiter job description
Once you've determined the skills required for the role, you can write the job description to advertise for your position. Here's what to include in your Recruiter job description:
Job Title: What position are you hiring for?
Summary: What makes your company unique? What would it be like to work for you?
Responsibilities: An overview of the role's day-to-day activities, and how the position contributes to the organization
Requirements: Skills a candidate must have to perform the job successfully
Benefits: Details of compensation, benefits, and any perks on offer
In building your candidate profile, remember you've already identified what skills are needed to succeed in the role. Here's where to list your "must-have" skills and maybe a couple of "nice-to-have" skills. For example, a Marketing Assistant must have incredible data entry skills, and it would be nice to have experience running small campaigns.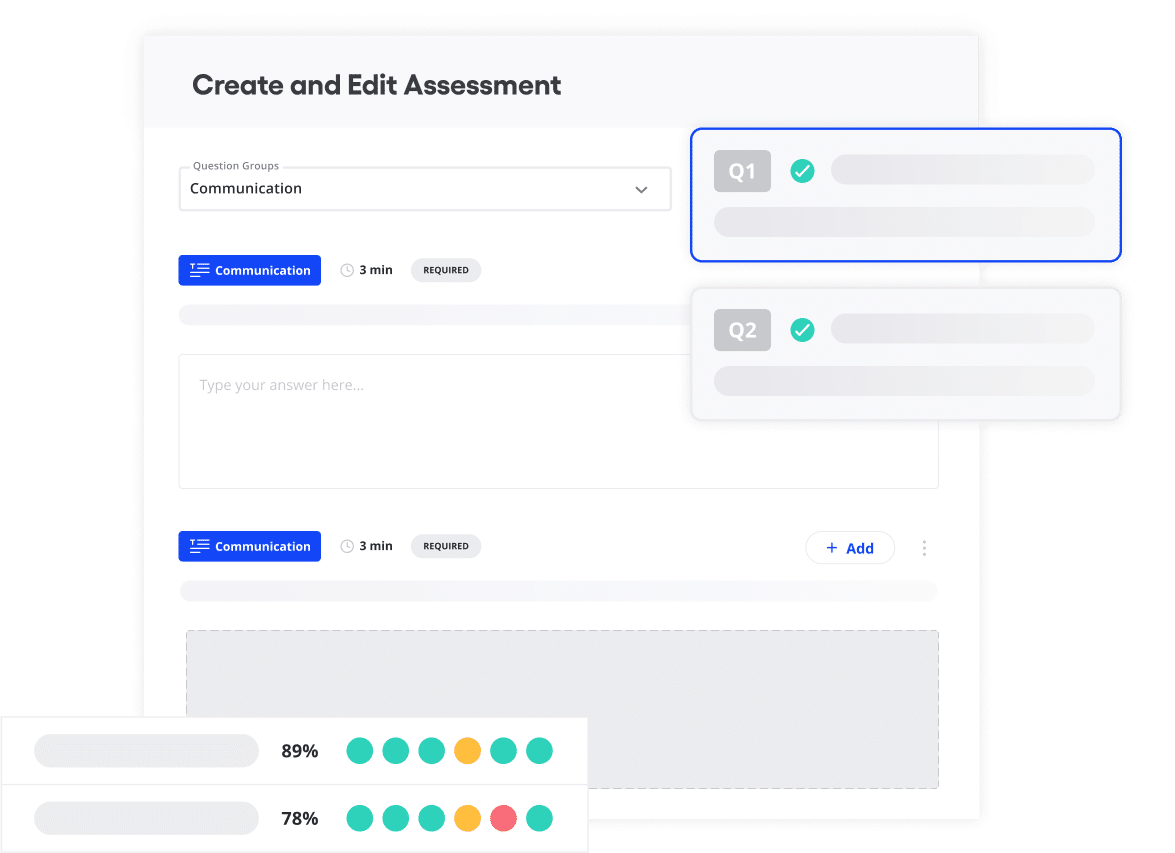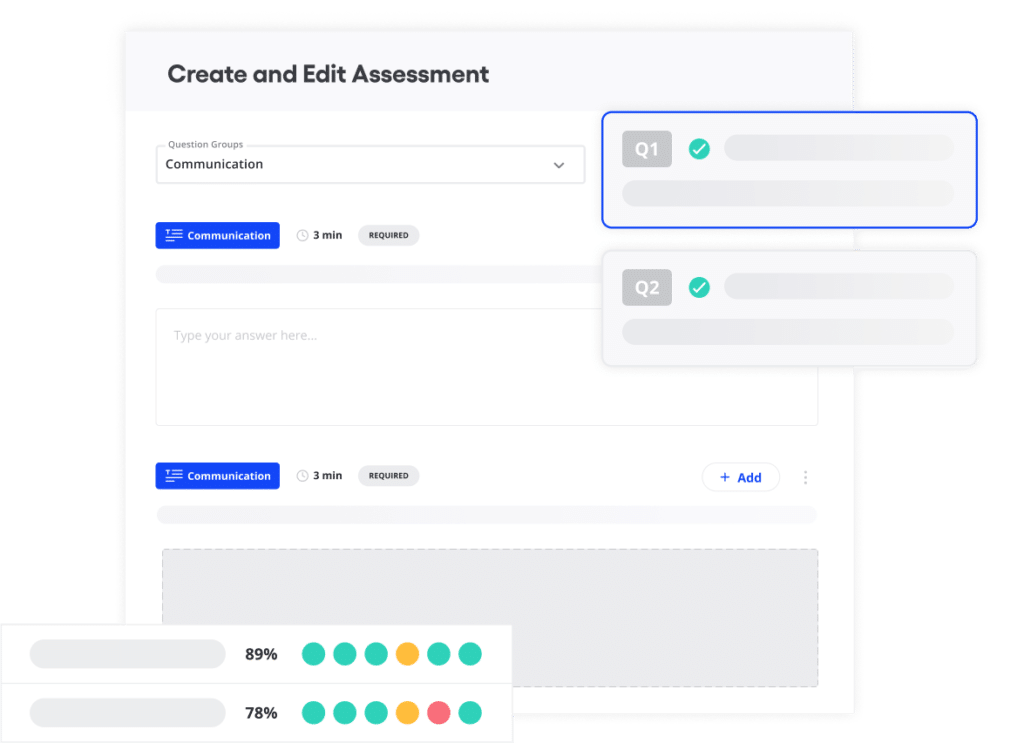 SELECTING THE IDEAL CANDIDATE
Sample skill tests for a Recruiter
Create a free account today to access the full assessment and more from our library
Question Type: Multiple Choice
You're working for a digital marketing agency and are signing a new client. The standard fee for a YouTube advertisement is $2479 but you have offered a 15% discount to sign them up as a customer. What would the fee be for this?
There is a new app that finds hidden flash sales and provides the user with deals on a daily basis. The free service gives you a certain number of deal finds and for a minimal upgraded fee, you get all the best and complete deals on the market. How would you go about promoting this new app?
As a Marketing Assistant, you will be supporting many key stakeholders in the business which will pull you in many directions. Imagine one stakeholder keeps asking you to do small tasks that are pulling you away from the core function of your role. How would you manage this?
How to interview a Recruiter
Once your Vervoe skills assessment has surfaced the most qualified people for your open role, you can focus on interviewing these candidates. The interview should focus on any skills that require development that were highlighted from the skills assessment.
Now you know that candidates can do the job, the interview becomes more of a relationship building exercise where you can get to know the candidate on a more personal level, understand their motivations, and how they would fit in with the team.
How much does it cost to hire a Recruiter?
The US average for a Recruiter is $53,000 according to Glassdoor.com.au, while the reported average salary on Payscale.com amounts to $53,200. 90% of Recruiters earn up to $81,000 with 75%receiving less than $64,000. The lowest-paid 10% is paid up to $37,000.
Recruiter Salary United States
Recruiter salaries in the United States range from $37,000 – $81,000 (USD). Recruiter salaries in the US vary a lot depending on the industry and the career experience the Recruiter has.
Recruiter Salary United Kingdom
Recruiter salaries in the United Kingdom range from £20,000 – £51,000 (GBP). Recruiter salaries in the UK vary largely based on the industry and the career experience the Recruiter has.
Recruiter Salary Australia
Recruiter salaries in Australia range from $45,000 – $90,000 (AUD). Recruiter salaries usually depend on commission, the industry, and the career experience the Recruiter has.
Take your hiring to the next level
We've put together comprehensive recruitment guides for the most common jobs to help you identify the best candidates.