How to hire a sales executive:
lessons from a sales exec
Every new employee at Vervoe is hired through a Vervoe assessment. When our new hires start, we like them to help us write an assessment for their role with our in-house I/O psychologists. Who better to ask for input that someone experienced in that role? How would they like to showcase their talent?
So who are you, new Vervoe family member?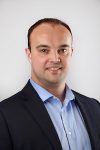 I'm Jaimison, and I'm an Account Executive at Vervoe.
What does an Account Executive do?
So an account exec is a sales role. My job is to assess challenges our prospects and clients are facing, and I consult them on best practices and methodologies for overcoming those challenges.
How did you approach creating the assessment?
I tried to reflect on situations I'd actually dealt with in my career. I considered how I'd approached them at the time, what I learnt from them, and which skills had improved my performance.
Essentially, I wanted to create a reality-based audition for someone who was applying to be an account executive.
What skills does an Account Executive need?
As mentioned, a large part of the role involves understanding customer challenges. This means great communication skills, problem-solving abilities, adaptability and empathy are needed to succeed. It also requires negotiation and closing skills. Finally, a great account executive needs to be self-motivated, and thick-skinned – it's not an easy role.
What's your take on skills assessments?
I've had 15+ years as a provider of best-in-class talent acquisitions solutions, including in sourcing, compliance and diversity. I've seen both the upsides and the struggles of talent acquisition processes.
The past few years, the market has experienced explosive growth in talent demand, particularly in the fields of healthcare, technology and engineering. In short, there is not enough talent to fill all the open roles in the market, which means companies are in fierce competition in differentiating themselves as employers of choice and attract the best talent from the limited pool.
Once you've finally captured a candidate's interest, the experience they have in your application and evaluation process has to be stellar. This means it has to be easy, engaging and quick. Great candidates won't wait long for answers…in this market, they don't need to. This puts a great deal of pressure on talent acquisitions teams because they can't risk losing good talent, and having roles open for extended periods of time.
When it comes to evaluation processes, I find far too many organizations still rely heavily on resume/CV reviews and using assessments types that are not indicative of a person's talent and ability for the roles they are applying for.
Case in point…personality assessments, which are biased in and of themselves, and don't give a clear perspective on skills.
The overall process is lengthy and the end result is poor.
How do you think this sales executive assessment could help hiring managers?
There are countless organizations in need of top performing sales reps. Truly talented sales reps are in-demand, and aren't on the job market for long. The challenge is that the evaluation process is so time-consuming and inefficient because resumes are weighted so heavily.  Let's face it, a resume or CV is a piece of paper with a lot of words on it. It may or may not be an accurate depiction of the person who is submitting it. Wouldn't a skills test that is automatically graded, be a better faster way to identify who can actually do the job?
Well, that is precisely how I see this skills assessment working for companies who are in desperate need of the best sales people. Within minutes, tests are scored and candidates are stack ranked. Recruiters and hiring managers now know which candidates they should invest their time with.
Additionally, there is no bias in the process. AI doesn't care where you went to school, where you grew up or who you know. Vervoe's machine learning model doesn't care what nationality you are, or what gender you are. All it looks at is whether or not you have the skills and talent to do the job.
Use Jaimison's Sales Exec assessment
Get started with Vervoe today to use Jaimison's assessment for your next hire. Start with a free trial and explore our full assessment library.